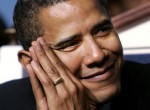 In a video message posted today on the White House website and YouTube, President Barack Obama tells the people of Kenya that the upcoming elections are a historic opportunity for them to stand together as a nation to ensure peace and progress, and for the rule of law.
Starting off with the Swahili greeting of "Habari yako" (how are you?), Obama said "Kenya has lifted people from poverty, built an emerging democracy and civil society, and sustained a spirit of hope in the face of great difficulty. Now, Kenya must take the next step in March, with the first national elections under your new constitution".
Kenyans go to the polls on March 4 under the new constitution and all recent scientific opinion polls have current prime minister Raila Odinga in the lead followed closely by deputy prime minister Uhuru kenyatta. Odinga is the head of the ticked called CORD while Kenyatta is in the Jubilee coalition. Uhuru Kenyatta is currently facing charges at the International Court in the Hague for being a mastermind of the post election violence that rocked Kenya in the last election in 2007/8.
"Kenya must reject intimidation and violence, and allow a free and fair vote. Kenyans must resolve disputes in the courts, not in the streets. Above all, the people of Kenya must come together, before and after the election, to carry on the work of building your country." president Obama said.





(1 votes, average: 5.00 out of 5)


Loading...