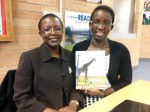 She is a junior high International Baccalaureate (IB) student. She is intelligent,  elegant, passionate and filled with ambition. At 16 years of age, Tori Odhiambo has  already published a book; Close to Home: The African Savannah. The children's book,  published in December 2012, enabled Ms. Odhiambo to achieve the goal of writing a book  before the age of 17. In a nutshell, the book eloquently depicts the fascinating characteristics of Kenyan wildlife in their habitat through poetry as seen by the teenager. Readers will enjoy reading her poetry as well as learning about the wealth of
the Kenyan culture. "The book shows diversity of wildlife. It's also a testament to humans that even though we are different from animals we can co-exist with them in the same environment" said Ms. Odhiambo.
The concept of writing the book was born in the summer of 2011 after Ms. Odhiambo and her family visited Kenya in December 2010. She has been writing poetry and keeping a journal since she was a little girl. This trip was no exception to her ritual of jotting down her experiences. Her documentation is meticulous and thorough to the extent that her 13 year old brother Kovic Odhiambo makes references to her class notes dating back to the 5th grade for his class work.
While in Kenya, Ms. Odhiambo and her extended family toured the famous Maasai Mara Game Reserve, which is 150 miles from Nairobi, the capital of Kenya. Surrounded by animals in the wild, Ms. Odhiambo was fascinated especially with the giraffe, her favorite wildlife, which she said symbolizes the ability to reach one's goals. "The biggest surprise is that it was not planned that she would go home [Kenya] and come back and write the book" said Mr. Cleophas Omondi who is Ms. Odhiambo's dad. He was impressed that his daughter had picked what she had seen in Kenya and translated into poetry. "She took aspects of nature and the co-existence of the ecosystem and was able to put  together and make it convincing" he said.
The book also incorporates elements of family in the story as a way of evoking appreciation to them. It blends observation of wildlife and dedication to family through pictures and words. Although the book symbolizes the significance of her accomplishments, it also symbolizes the significance of family, love, loss, reflections and hope. In November 2011, her five year-old cousin, Tania Omondi, was kidnapped and has not been returned since. The family keeps hope alive by praying for her safe return and dedicating the book to her.
Ms. Odhiambo credits her loving family for supporting and cheering her on through the numerous drafts, edits and calls to the publishers. They encouraged her, helped review her work and connected her with a publisher. "Tori was highly determined. She took charge of the project and did all the work herself in addition to the advanced courses she takes as an IB student" said Mrs. Nancy Omondi, Ms. Odhiambo's mother.
The teen author looks up to her parents who migrated to the United States when she was three years old. They have demonstrated the importance of hard work despite challenges faced by them and most immigrants. "My parents say you must work hard in everything and set SMART goals (Specific, Maintainable, Achievable, Realistic and Timely)"
Her father is an Engineer at 3M and mother Nancy is a Director at UnitedHealth Care. A family of high achievers and focused individuals, it is no wonder that the eleventh grader, who attends Champlin Park High School, loves biology and tutors math, sciences, French and social studies, aspires to become a medical doctor. Her brother Kovic would
like become a biomedical engineer. He noted that not many kids can publish a book before they go to college. "I am very proud of my sister".
One virtue I found to be consistent in Ms. Odhiambo and her family is their desire to impart knowledge to others. In addition to the subjects that she is already mentoring, Ms. Odhiambo would like to mentor young writers aspiring to write or enhance their writing skills. Her parents couldn't agree more with the importance of helping other
young writers improve their writing skills. She too stands to gain from this mentorship as the experience gained from mentoring and writing more books will help publish future medical books, articles and papers.
The book is currently available for online purchase  at  Barnes & Noble,  Amazon and Xlibris.com.  An e-version of the book is also available.
Gillian Onyango is a Mshale staff writer based in Minneapolis.





(2 votes, average: 5.00 out of 5)


Loading...