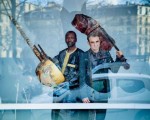 Review from the Inquirer
The combination of the cello and the kora, the African 21-string harp, may seem unusual on paper, but it sounds perfectly natural coming from Vincent Segal and Ballaké Sissoko.
In 2009, the French cellist and Malian kora player collaborated on Chamber Music, an album of thoughtful duets, and Segal produces and plays on Sissoko's new album At Peace. The duo will perform at Delaware's Arden Gild Hall on Saturday night.
Chamber Music created its own world, balancing Segal's plucked or bowed cello with Sissoko's shimmering, cascading kora lines. It's a somber but exploratory sound, often elegant, sometimes meditative. The music is composed but has an improvisational spontaneity, too. The musicians are friends who use their mastery in the service of gentle innovation.
"You know more important than the instruments or the styles is the human relationship between Vincent and I," Sissoko wrote via e-mail (with the help of a translator). "I don't think we do a blend of African and European styles; we do our music."
Their music is something that takes traditional sources and transforms them. Malian music has no direct equivalent of the cello, so by definition the collaboration is something new. At Peace is an extension of Chamber Music: It is more deeply rooted in traditional African song, and it includes a wider variety of instrumentation, including guitars and balafon, as well as solo kora pieces.
"My music is clearly based on tradition, but I've always wanted to try to put my own touch into the tradition, trying to reinvent it my own way. At Peace contains compositions inspired from traditional songs, but the instrumentation, the way of playing them, is definitely new," says Sissoko, who learned to play by watching his father, Djelimady Sissoko, and who has collaborated with Mali musicians Toumani Diabaté and Rokia Traore.
The title At Peace aptly refers to the feeling of the music – it's beautiful and stately – but with Mali's current political crisis, it can't help but have social undertones.
"I cannot really speak well about political problems. But my music can do something. I can show another part of my country. I can show the HEART and the soul of Mali. I can show the richness of our culture. That's what I try to do as a musician and I believe it can help reinforcing peace, solving tensions," Sissoko writes.
"I hope the audience can at some point close their eyes and travel far away, in their mind without moving. I like thinking that if they may come with their everyday life stress, they leave the venue at peace."
Ballaké Sissoko and Vincent Segal perform Friday, March 8 at 8 p.m. at the Cedar, 416 Cedar Ave S, Minneapolis MN 55454. Tickets: Advance $20 and $30 at the door. Information: Phone: 612-338-2674 ext 0 between 12 noon and 4pm ($2 fee per ticket), www.thecedar.org.





(No Ratings Yet)


Loading...