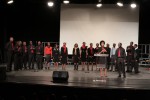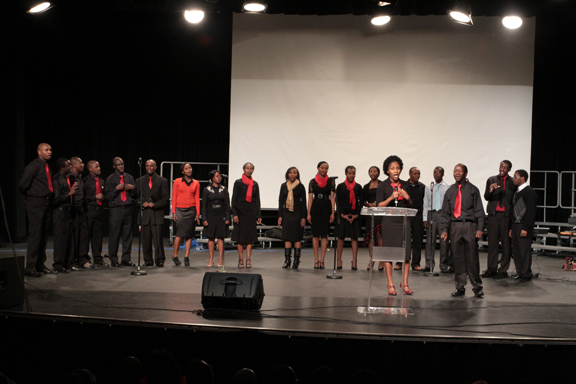 OSSEO, Minn. – With two days to go before the March 4 general elections in Kenya, over 400 Kenyans of the Christian faith gathered at a local high school auditorium to pray for peace as Kenyans undertake what could be a defining election for the country. The bitter disappointment of not being able to vote from overseas as provided for in the new constitution did not seem to deter them in offering prayers.
The last general elections in December 2007 left over 1,000 Kenyans dead and thousands displaced in the disputed exercise that has haunted the country since.
Following the bloodshed of the 2007/2008 elections, Kenyans in Minnesota have held an annual prayer service to pray for the country and a variety of community concerns such as immigration and Diaspora unity. Pastor Zipporah Bogonko, an associate pastor at International Outreach Center first conceived of the idea and continues to be the coordinator. The ecumenical service is organized jointly by congregations that are predominantly Kenyan. Held usually in the warmer summer months, organizers pushed this year's service up and dedicated it to the impending elections.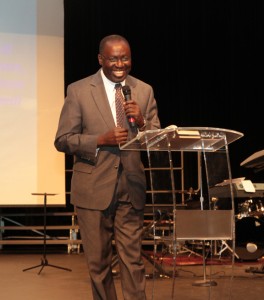 Choirs from the participating congregations offered musical selections in between prayer messages from the pastors present.
The day's sermonette which the organizers called a "Message of Exaltation" was delivered by Pastor Peter King'oina of the Minnesota SDA Conference. Basing his message on the first book of Timothy chapter 2 which instructs on prayer and submission to authority, pastor King'oina urged fellow Kenyans to pray for the Independent Electoral and Boundaries Commission (IEBC) to resist all temptation to do evil.
He spoke passionately against the evils of tribalism saying we do not choose which tribe to be born into "so we should not take it out on others for belonging to other tribe", he said, at one point jocularly asking one of the pastors in an attempt to illustrate a point if he chose to be born in Kirinyaga (home to the Kikuyu community in Kenya), to fits of laughter from the crowd.
He called for prayers for all those that might affect the elections in any manner "because as Christians we have an obligation to pray for everyone," he said. He said major changes have happened in Kenya to guard against any mischief in the election that he is proud of including the installation of an independent judiciary and a reform of the police force but warned against complacence hence the need for prayers.
Ministers from the various churches also offered prayers and messages on spiritual vision, national peace and reconciliation. Among them Pastor Michael Ngeru Kamau, Rev. Dr Sammy Wanyonyi and Rev. Clement Momanyi Moturi.
Pastors Eric Mokua of Mount of Blessings Church and Stephen Ibabu of Jesus Celebration Center were the masters of ceremonies.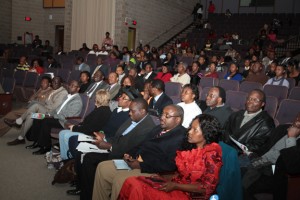 A senior Kenyan who would only give her name as Susan laughed with a hint of guilt as she admitted coming in late for the event " You know my shift did not end until 4pm and you know I had to go home get ready first but I am glad I made it, I was so tired I almost didn't come." She said.
A handout at the prayer event listed the following as participating churches International Outreach Church (IOC), Kenyan Christian Outreach Church, Jesus Celebration Center, Progressive Grace Church, Mzizi Church International, Shine in the World International Ministries (SWIM), Destiny Faith Ministries and United Seventh-Day Adventist Church.
Local restaurateur and entertainment promoter, George Ndege, praised the organizers and said in future he would like to see an interfaith service as "it will bring the Minnesota Kenyan community closer."

Born and raised in Kenya's coastal city of Mombasa, Tom is the Founder, Editor-in-Chief and Publisher of Mshale which has been reporting on the news and culture of African immigrants in the United States since 1995. He has a BA in Business from Metro State University and a Public Leadership Credential from Harvard's Kennedy School of Government. He was the original host of Talking Drum, the signature current affairs show on the African Broadcasting Network (ABN-America), which was available nationwide in the United States via the Dish Network satellite service. On the show, he interviewed Nobel laureates such as 2004 Nobel Peace prize winner, Professor Wangari Maathai, the first woman from Africa to win the peace prize and heads of states. Tom has served and chaired various boards including Global Minnesota (formerly Minnesota International Center), the sixth largest World Affairs Council in the United States. He has previously served as the first Black President of the Board of Directors at Books for Africa. He also serves on the boards of New Vision Foundation and the Minnesota Multicultural Media Consortium. He has previously served two terms on the board of the United Nations Association. An avid runner, he retired from running full marathons after turning 50 and now only focuses on training for half marathons.





(No Ratings Yet)


Loading...