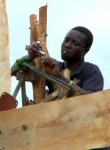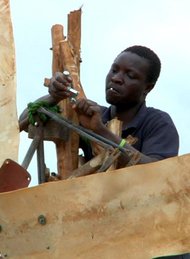 A film about a young Malawian who builds a windmill from scrap metal to save his family from famine last night won the grand jury for best documentary at the just concluded South by Southwest Film Festival (SXSW) held in Austin, Texas.
"William and the Windmill" directed by Ben Nabors is about Malawi-born William Kamkwamba who has become something of a celebrity due largely to his book deal (The Boy Who Harnessed the Wind) and TED talk and movie.
Kamkwamba is now a junior at Dartmouth. He intends to go back to malawi after college to use his new knowledge to improve his village, he told audience emmebers during and event Monday at the SXSW event.
William and the Windmill was crowdfunded by Moving Windmills, a 501(c)3 nonprofit, and the proceeds will go directly to village projects. Already installed is the solar water pump that now provides one of the only resources for clean drinking water in the area.
The full list of winners as announced by SXSW:
Documentary Feature
Grand Jury Winner: "William and the Windmill"
Special Jury Prize (Cinematography): "Tuba"
Special Jury Prize for Directing: "We Always Lie to Stangers"
Narrative Feature
Grand Jury Winner: "Short Term 12"
Special Jury Prize (Ensemble Cast): "Burma"
Special Jury Prize (Acting): Tishuan Scott, "The Retrieval"
Short Film Jury Awards
NARRATIVE SHORT
Winner: "Ellen Is Leaving"
(Honorable Mentions: "Sequin Raze" and "Skin")
DOCUMENTARY SHORTS
Winner: "SLOMO"
ANIMATED SHORTS
Winner: "Oh Willy"
MIDNIGHT SHORTS
Winner: "The Apocalypse"
MUSIC VIDEOS
Winner: Vitalic, "Stamina"
Texas High School Short Film Jury Award:
Winner: "The Benefactress"
SXSW Film Design Awards
EXCELLENCE IN POSTER DESIGN
Winner: "Kiss of the Damned"
EXCELLENCE IN TITLE DESIGN
Winner: "Joven Y Alocada"
SXSW Special Awards
SXSW WHOLPHIN AWARD
Winner:
SXSW CHICKEN & EGG EMERGENT NARRATIVE WOMAN DIRECTOR AWARD
Winner: Hannel Fiddel, "A Teacher"
(Honorable Mention: "Zero Charisma")
LOUIS BLACK LONE STAR AWARD
Winner: "Loves Her Gun"
KAREN SCHMEER FELLOWSHIP
Jim Hession





(No Ratings Yet)


Loading...