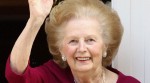 The late British prime minister once labeled Nelson Mandela's political group a terrorist organization. Three years after Thatcher left office, Mandela became South Africa's first black president.
JOHANNESBURG, South Africa — To Margaret Thatcher, the African National Congress under jailed leader Nelson Mandela was a "typical terrorist organization."
When much of the world enforced sanctions on apartheid South Africa in the 1980s, Thatcher refused, instead pursuing a policy of "constructive engagement" with the country's white minority government.
Now, after her death at age 87, the three-term British prime minister's legacy is as polarizing in South Africa as it is in Britain, where the Manchester United soccer team decided not to hold a minute of silence before a Monday night game fearing the crowd response.
Thatcher's rule began in 1979 and encompassed critical years before the release of Mandela and the collapse of the racist apartheid regime. While she always said she opposed apartheid, Thatcher has been dogged by criticism that her government's efforts to counter it weren't enough.
David Cameron, the current British prime minister, apologized for Thatcher's policies on apartheid when he visited South Africa in 2006. Cameron said his Conservative party had made "mistakes" by failing to introduce sanctions against South Africa, and that Thatcher was wrong to have called the ANC "terrorists."
Following news of her death, some South Africans on Twitter branded Thatcher an apartheid supporter, and took delight in the fact that Mandela, who is 94 and in poor health, has outlived her. Mandela was released from prison during Thatcher's last year in office, and four years later became South Africa's first black president.
"Mandela outlived Thatcher. 1-0 to FREEDOM! History is the ULTIMATE judge!" one tweet said.





(No Ratings Yet)


Loading...