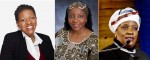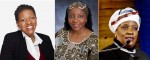 Three daughters of renowned South African social rights activist Archbishop Desmond Tutu will come together on one stage to discuss, enrich and debate in a dialogue for hope as part of the university's Urban Research and Outreach-Engagement Center (UROC) Critical Conversation series.
The Rev. Mpho Tutu, race and gender activist Nontombi Naomi Tutu, and researcher Thandeka Tutu-Gxashe will be at Shiloh Temple International Ministries in Minneapolis on Tuesday April 23 at 6pm and at the University of Minnesota Coffman Union, Great Hall on Wednesday, April 24 at 2pm.
According to statement from the university, UROC is investing the next two years exploring the crucial topic of Trauma, Faith and Healing and how faith, consensus-building, and reconciliation play a role in healing a community spirit that has been wounded by violence, natural disaster or catastrophe.
Nontombi Naomi Tutu is a staple of important conferences in the twin Cities but this will be the first time all three sisters will be on one stage.
Both events are free and open to the public but online registration is required. Follow the links below to reserve your space.
Tuesday, April 23, 6pm at Shiloh Temple International Ministries, Inc.
http://uroctraumafaithhealing1.eventbrite.com
Wednesday, April 24, 2pm at University of Minnesota Coffman Union, the Great Hall
http://uroctraumafaithhealing2.eventbrite.com





(1 votes, average: 5.00 out of 5)


Loading...