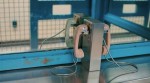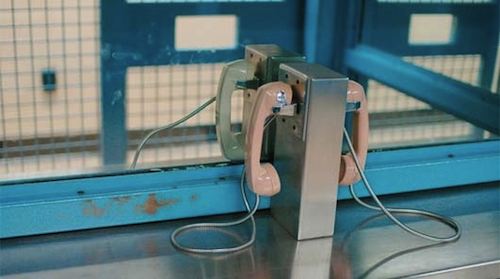 At the West County Detention Facility, inmates can pay upwards of $20 for a five-minute phone call to friends, relatives or lawyers. While the high rates are a cash cow for the prison, for detainees they have become a major hurdle to staying in touch with the outside.
For immigrant detainees and their families, the high phone rates can lead to total isolation.
"$50 gets about 15 minutes of actual talk time," said Roberto de la Rosa, whose mother is currently being held at WCDF. De la Rosa noted that with repeated dropped calls and reconnection fees, the cost of a single conversation rivals a single families' monthly phone bill.
De la Rosa was among a group of some 40 activists, former inmates and family members who gathered last Friday outside the prison, located about 30 miles east of San Francisco. Representing a cross-section of local civic, religious and legal organizations, protestors carried signs that read, "Detained mothers have the right to call home."
The rally was part of a national Mother's Day action led by the national Campaign for Prison Phone Justice. A fact sheet released by the group notes most Immigration and Customs Enforcement (ICE) detainees are either in deportation proceedings or have petitions for asylum pending, and that affordable phone access is critical to their effective legal representation.
De la Rosa's mother has been held in detention for close to two years, and was brought to WCDF in 2012 after nearly a year of being shuffled between centers. Her son says the constant moving and high phone rates have made staying in touch difficult.
"I've really only been in touch with her for the last four months," he explained. Having recently lost his job and with persistent health problems, he says the added expense of maintaining communication with his mom, on top of rent and groceries "has really taken a toll on the family."
WCDF houses some 1100 inmates, including those held by the county as well as candidates for realignment — a state-led initiative to transfer low-level offenders from state to county supervision. In the fiscal year ending in 2012, the Contra Costa County Sheriff's Office, which runs the Richmond facility, was paid more than $3 million by the federal government to hold ICE detainees.
Christina Mansfield is co-founder of Community Initiatives for Visiting Immigrants in Confinement (CIVIC), which recently launched a national campaign to bring attention to the high cost of prison phone calls. She was at Friday's rally, where she described immigrant detainees as "a captive market … The high cost of phone calls creates additional and unnecessary suffering for families, and privileges profit over the right of families to remain in contact."
Unlike state and federal penitentiaries, which are required by law to contract to the lowest bidder, counties are not subject to the same regulation. "Most county jails go with the companies that get them the most profit," explained Mansfield.
The issue first gained prominence in 2000, after a class action lawsuit was filed by Washington, DC resident Martha Wright against the prison phone companies for charges related to calls made from her grandson, who spent 18 years behind bars. She later sued the Federal Communications Commission, and this past April her case was taken up by the Congressional Black Caucus.
The phone system at WCDF is run by Alabama-based Global Tel* Link. The company paid $75,000 for the contract with Contra Costa County, which receives 57 percent of all profits made from the phone calls. The contract is due to expire in June 2013.
Last year, the company saw profits from calls made within WCDF nearing $700,000, according to documents obtained via a public request act filed with the Sheriffs office by CIVIC.
Global Tel* Link declined to comment for this story.
A call from inside WCDF includes a $3.25 connection fee regardless of the duration, with per-minute rates running as high as 25 cents for interstate calls and an additional 30 cents when phoning out-of-state. Inmates in county jails like WCDF pay higher rates than those in either state or federal penitentiaries.
De la Rosa said that with calls routinely dropped, he often has to pay the connection fee more than once in a single conversation.
Reverend Deborah Lee is director of the Interfaith Coalition for Immigrant Rights, one of the organizers of Friday's rally. Gripping a stack of flyers with slogans that read "Justice" or "Happy Mothers Day – Affordable Phone Calls," Lee described the rates as "exploitative," saying they inhibited inmates ability to maintain family ties and stay up to date on their legal cases.
Prison reform advocates have long argued that maintaining connections to family and friends on the outside is critical to reducing recidivism and ensuring a smoother transition once inmates are released.
"Families are being overcharged for the most basic things," she said, "like telling relatives you love them, or speaking with their attorneys about their cases." Inmates' relatives often pay anywhere from $25-$50 for two or three brief calls. "It's cruel and inhuman," said Lee, "the stories we hear are heartbreaking."
One of those stories is that of Abesulom Taye, who was released from WCDF last week after a seven-month stint on a technicality stemming from charges dating back to 1998 for marijuana possession. Taye was among those at the Friday rally.
"It happened so fast," he recalled of his arrest, saying it was unexpected as he had been granted asylum by a judge in 2010. A father, Taye said while he was detained he often had to "decide whether I wanted to talk to my son or have food that day." The high costs meant that calls went from every other day to once a week. Eventually he racked up phone bills totaling $2000.
Lee's group has joined with CIVIC in seeking a fair and open process for Contra Costa County to negotiate a new contract that would comply with ICE standards in going with the lowest cost provider.
"We shouldn't be trying to balance our budgets on the backs of people trying to talk to their kids," she said.
New America Media is the country's first and largest national collaboration and advocate of 2000 ethnic news organizations.





(No Ratings Yet)


Loading...