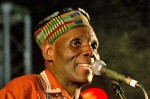 The Cedar Cultural Center, a top destination for touring artists from Africa like Femi Kuti, Fatoumata Diawara, Habib Koite and others, turns 25 in September.
Editor's note: Mshale is a sponsor of the Cedar's 25th anniversary season.
To celebrate its silver jubilee and thank its supporters, it has scheduled four free concerts in Spetember as it kicks off its 25th season. On Sunday, September 1,they will kick off the season with a free concert by global music titan, Oliver Mtukudzi of Zimababwe and his & Black Spirits band. On September 18, the Krar Collective,
a group dubbed 'The White Stripes of Ethiopia' will perform.
Th fifth annual Global Roots Festival, which is also free, will feature four bands (Dakhabrakha, Kardemimmit, Debo Band, Christine Salem) over the course of two days, September 24-25.
The kick off of the 25th season also brings to the Cedar its first Artistic Director since 2008, longtime Cedar employee who was born the year the venue was founded, Sage Dahlen. "With artists from more than 12 different countries, and genres ranging from second-wave ska to Ethiopian funk, this September is a perfect way to kick off our 25th season. It showcases so much of what we do well, and hopefully exposes even longtime Cedar patrons to something new," said Dahlen.
The Cedar will celebrate its anniversary throughout the 2013-2014 season with monthly 25th Anniversary Shows hand selected by its staff. Following the African groups that will kickoff the season in September will be Malian superstar Rokia Traoré. Traoré will perform on Monday, November 25.
Visit the Cedar website for the African and non-African acts that will be be featured as part of the 25th Anniversary Shows.
Announced African Acts for Cedar's 25th Anniversary (as of 8/15/2013):
Sunday, September 1, 2013: (FREE) Oliver Mtukudzi & The Black Spirits.
Wednesday, September 18, 2013: (FREE) Krar Collective.
Wednesday, September 25, 2013: (FREE) Debo Band and Christine Salem.
Monday, November 25, 2013: Rokia Traoré (Advance: $30 or $35 at the door)
Ticket info and full details can be found at the Cedar website.





(No Ratings Yet)


Loading...