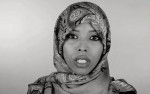 In an effort to rally the community against violence and remember family members and friends lost to violence, a peace march organized by Minnesota's Somali youth will be held at Karmel Mall this Saturday, November 9 starting at 2:00 PM.
Karmel Mall is located at 2910 Pillsbury Avenue in Minneapolis, one block north of Lake Street on Pillsbury.
Going by the moniker "Youth Against Violence", the group organizing the peace march seeks to end the cycle of youth violence and crime in Minnesota.
It is still an evolving youth movement as it is careful to say it "has no appointed leaders (and) no expiration date for its demands".
At its first peace march at the Brian Coyle Center in Minneapolis' Cedar-Riverside neighborhood, over 100 participants took part to protest against what they called "the killings of innocent lives".
In the past week, the group has furiously dialed up its ground work and has lured in energized members of the Somali community to take part in Saturday's march. The march is open all ages, the group said, as well as "all people that want to show the world injustice is unacceptable".
A Facebook page has been setup and serves as the information portal for the group. You can find it here.
A YouTube video featuring community members denouncing violence and gangs can be found here.
Youth Against Violence Peace Rally
Saturday, November 9, 2013 @ 2PM
2910 Pillsbury Avenue South, Minneapolis
Facebook page: Go here.
Faiza Abbas Mahamud is Associate Editor at Mshale having started as a Staff Reporter. She has a BA in Journalism and Women's Studies from Augsburg College. She is author of the documentary "Somali Women's Education". She is based in Minneapolis.





(2 votes, average: 5.00 out of 5)


Loading...