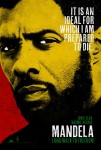 President Barack Obama will today (Nov. 7) screen "Mandela: Long Walk to Freedom," a film portraying the life of South Africa's iconic anti-apartheid leader, the White House said.
The movie recounts the political and personal life of former South African president Nelson Mandela, whom Obama has called an inspiration.
Obama will watch the film at the private White House theater at 6 pm (2300 GMT), according to his official daily schedule.
According to Hollywood industry publication Variety, actors Idris Elba and Naomie Harris, who starred in the film, will be in attendance as will two of Mandela's daughters, Zindzi and Zenani.
"Knowing what a strong relationship President Obama has with president Mandela, it?s an honor for this film to be shown at the White House," producer Harvey Weinstein was quoted as saying in Variety on Monday.
When Obama made his first presidential visit to South Africa in June, he hailed Mandela as "an inspiration to the world."
Obama, who was unable to meet with the ailing South African leader during that trip, went to Robben Island and visited the cell where Mandela spent 18 years as a political prisoner.
The US president spoke on the phone with the anti-apartheid icon's family and called on young people to look up to and honor Mandela, who turned 95 years old in July.
The nearly three-hour film, which will be released in the United States on November 29, is based on the 1994 book of the same name. It portrays Mandela's life from his childhood in the southern Xhosa village of Qunu to his 1994 election as the country's first black president.





(No Ratings Yet)


Loading...