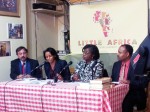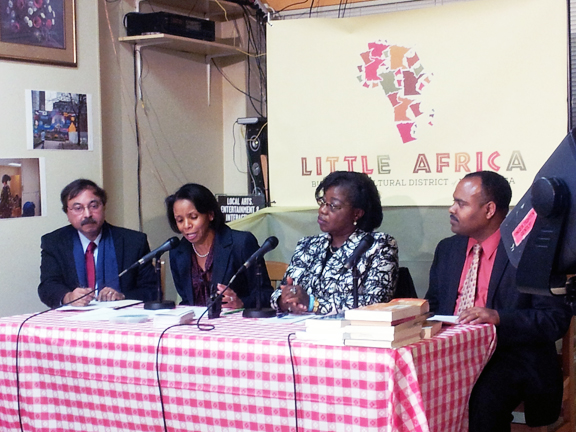 Only two weeks ago Abdi Warsame was elected to the Minneapolis City Council, becoming the highest-ranked elected official of Somali decent in the country. The overwhelming support he received reflects the power in numbers held by African immigrant communities on the brink of a new realm of civic engagement.
The official launch of Little Africa St. Paul, a budding business and cultural district, marks a push towards higher visibility and greater recognition of the economic power—$1.4 billion— within those communities.
State Supreme Court Justice Wilhelmina Wright attended the celebration, held at the Snelling Café at 638 Snelling Avenue North. Owner Afeworki Bein served a tantalizing buffet with two cakes provided by Rebecca Bakery. The night included interludes from dancer India Jamal. Community leaders from four African nations offered remarks, followed by a Q & A session and comments from Wright.
Wright said she sees Little Africa and it's Free Library as an example of the pride the community has, "not only in America but in our countries of origin and our ancestral roots."
The "political tectonic plates" that shifted with the election of Warsame, Alondra Cano and Blong Yang were helped by the redistricting panel Wright chaired, said Bruce Corrie, Vice President at Concordia University and a panelist at the launch.
"We lift as we climb. We share our resources for the good of the whole," said Wright. "This is our legacy." Little Africa also embodies community by merging values and traditions while opening a path for new customs and practices to guide the community forward, she said.
The African Economic Development services cultivated Little Africa over the past two years, in step with their mission to build wealth within African communities through entrepreneurism. The district, between St. Paul's La Fond and University Avenues will become a foundation to build business and culture and strengthen ties between African communities, said Gene Gelgelu, AEDS executive director.
"The idea is for all of us to be part of this organization," said Ghas Mends of the Sierra Leone Community. "The name of the game is the economy."
Kenny Odusote, president of Minnesota's West African Collaborative also sees this as a chance to foster intercultural understanding.
"Little Africa brings together all the ethnic groups within individual countries," said Odusote. "We hope we will be able to have Minnesotans understand more of the continent of Africa."
AEDS has also partnered with the Central Corridor Funders Collaborative, Nexus Community Partners and Concordia for the launch. Ethiopia, Cameroon, Sierra Leone, Nigeria and the Oromo communities were represented but more work needs to be done in order to bring all potential stakeholders to the table, Gelgelu said.
"We are a small community in Skyline Tower," said Hadi Khalif, during the Q & A. "How does [Little Africa leadership] engage the community? We have never had a time to discuss our plans or issues."
"We appreciate your presence," Gelgelu told Khalif. "We've had some time to share our plans to have an international marketplace. We from Little Africa would welcome a representative of Skyline Tower to be a part of our leadership team."
Michael Fondungallah, representing Cameroon, called the push for Little Africa strategic. His wish is to see some of the Cameroonian businesses in Brooklyn Park relocate to Little Africa St. Paul and add to the sight of more reminders from home.
"Hopefully, this is something we will cherish and leave for our children," he said.
Senah Yeboah-Sampong is a graduate of Columbia College in Chicago, Illinois with a Bachelors in Journalism, News Writing and Reporting. He covers general assignments for Mshale.





(1 votes, average: 5.00 out of 5)


Loading...