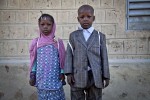 A new legal instrument allowing children or their representatives to file a complaint with the United Nations Committee on the Rights of the Child is set to go into effect in April, following its final required ratification, the United Nations today announced.
Costa Rica became the tenth country to ratify the Optional Protocol to the Convention on the Rights of the child on a Communications Procedure, the Office of the High Commissioner for Human Rights (OHCHR) announcement noted.
"The Optional Protocol gives children who have exhausted all legal avenues in their own countries the possibility of applying to the Committee," said Kirsten Sandberg, Chairperson of the Geneva-based Committee on the Rights of the Child, which monitors implementation of the treaty and its protocols.
"It means children are able to fully exercise their rights and are empowered to have access to international human rights bodies in the same way adults are under several other human rights treaties."
Starting in April, individual children or groups of children from the countries that have ratified the Optional Protocol will be able to submit complaints to the Committee on specific violations related to the Convention on the Rights of the Child.
The Convention is a universally agreed set of non-negotiable standards and obligations, providing protection and support for the rights of children. Its three Optional Protocols deal, respectively, with protecting children from trafficking, prostitution and child pornography; prohibiting their recruitment in armed conflict; and allowing them to bring their complaints to the UN if their rights are being abused.
The UN Children's Fund (UNICEF) applauded Costa Rica's ratification, saying the third Option Protocol will strengthen accountability, "not only helping to identify gaps in judicial systems for children at the national level but also supporting independent human rights institutions for children."
The UN agency noted that the Convention and its three protocols are particularly vital for children most vulnerable to human rights violations, especially those excluded and marginalized, such as children with disabilities, and from indigenous or minority families.
Child-sensitive procedures and safeguards will be put into place to ensure that any child filing a complaint is protected and to prevent any reprisals.
The measures will also be in place to ensure that the child "is not being manipulated or used to make the complaint," Ms. Sandberg noted.
She called the Optional Protocol "a major step forward," but stressed that Governments have the primary responsibility to address child rights violations.
"We urge States to develop their own systems to ensure that children's rights are respected and protected and that their voices can be heard," said Ms. Sandberg.
On behalf of the UN human rights office, she called on Governments that have not done so to ratify this Optional Protocol.
The Costa Rican Government will officially deposit its ratification this afternoon at the UN Headquarters in New York.






(1 votes, average: 5.00 out of 5)


Loading...