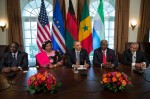 US President Barack Obama will host a summit with African leaders in August in a bid to strengthen trade and investment ties with the continent.
The White House announced Tuesday said the summit will take place August 5 and 6 in Washington.
There was no immediate word on which African leaders will attend the summit, but one report said the leaders to be invited are those currently in good standing with the United States and who are not suspended from the African Union.
Gambian-born Sulayman Nyang, a professor and former chair of the African Studies Department at Howard University in Washington, says the summit will have historical significance because Obama would be the first postwar US president to bring African leaders together.
But, Nyang says, the President must insist that the African leaders demonstrate accountability to their citizens in terms of protecting human rights and fighting corruption.
"My proposition to the American leadership is, if you are going to bring African leaders (to Washington), you have to be very firm with them on three issues.  One is, are you going to trade with us and open your markets and we open our markets to you under condition that your leadership is going to be accountable to your people the way we are accountable to our people through elections and respect to minority rights?," he said.
With anti-homosexual sentiments on the rise in many African countries, Nyang says US policy on gay rights may come into conflict with the policies of some of the African leaders who might be invited to attend the summit.
"One problem that the Obama administration is going to face, and with congressional leaders very nice to gay groups in this country and in the West, 'What are you going to tell some of the countries in Africa, who are opposed to the gay groups?'  This is where you're going to have a big contradiction in Western policy," Nyang said.
He said the Obama administration must also make the fight against corruption a condition in extending invitations to African leaders.
"During the Cold War, America did not care whether Mobutu (Sese Seko of the Democratic Republic of Congo, formerly Zaire) was a dictator.  America didn't care as long as the Belgians and the French and other Europeans were dealing with him.  He was alright.
"But today, the African leaders who are coming to Washington are going to be criticized because we now have the technology. There are a lot of Nigerians and other people who are concerned about corruption. They are going to be blogging, they will be using the Internet," Nyang said.
If only African leaders in good standing with the U.S. government are invited, Nyang said such criteria would be building on former President George W. Bush's Millennium Challenge Account, which used respect for civil liberties, good governance and control of corruption as benchmarks.
"This is a very important issue now because many scholars, journalists and other people have commented about whether (Zimbabwean President Robert) Mugabe will be invited.
Nyang specuated on the difficulties of choosing who should not be invited. What if the White House did not invite Egypt because of the failure of the Arab Spring movement and the leaders of Sudan and Kenya were not invited because they are being charged before the International Criminal Court.
That would be a bone of contention in African circles if Kenyatta is invited to Washington, but not Bashir, Nyang said.
The White House announcement comes at a time when some Africans feel Obama has not done enough for Africa since his election.
But, Nyang says the US leader is a victim of historical circumstances beyond his control.
"What is very interesting now is the fact that he is President now, but he cannot perform miracles.  He is not carrying a magic wand.  The Tea Party people and all these other people are not helping him in conducting foreign policy.
"So, how can you engage the Africans when you do not have the political power at home to mobilize your leadership to be more deeply involved in Africa?" Nyang said.





(1 votes, average: 3.00 out of 5)


Loading...