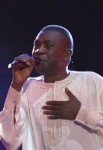 In his latest music video, world-renowned Senegalese pop star Youssou N'Dour does what he does best. His song, One Africa, performed with vocalist Idylle Mamba from the Central African Republic (CAR), is a sterling example of N'Dour's unique style that mixes French lyrics with Wolof (a local language in Senegal) and his trademark Mbalax rhythms. The song is an emotional call for peace in the troubled CAR where Christians and Muslims remain engaged in a bitter conflict.
The video includes images of Senegal's first president Léopold Sédar Senghor. A Christian leader in a predominantly Muslim country, he was an example of religious tolerance.
The video goes on to show Muslim imams and Christian pastors in the CAR holding hands amid the destruction of the conflict that has torn communities apart. The lyrics are mostly French and Mamba, who lives in Cameroon, might not be that well known to her fellow Central Africans, but this is certainly a positive message.
However, the question may be asked whether the message will indeed reach the right people. To what extent are musicians or artists able to contribute to peacebuilding in Africa, especially given the dearth of good leadership on the continent? Cynical observers will say that it is merely a way for musicians to attract attention and improve their sales.
For some, activism could involve mainly photo opportunities. Institutions like the United Nations Children's Fund (UNICEF) and the United Nations Education Science and Culture Organisation (UNESCO) have long since recognised the power of associating a famous face with a good cause.
Goodwill ambassadors include stars like Nigeria's Femi Kuti (pictured), Benin's Grammy-winning singer, Angélique Kidjo, and Colombia's Shakira. South African actress Charlize Theron has been a United Nations Messenger of Peace since 2008 – along with the likes of United States musician Stevie Wonder, and actor George Clooney.
Others, however, devote a lot of time and energy to trying to make the world a better place. Two musicians who are especially famous for their activism in Africa and, by extension, hobnobbing with powerful politicians are Bono from U2, and Bob Geldof, who led the Live Aid campaign to raise money for Ethiopian famine victims in the 1980s.
Both singers are still involved in various initiatives, following the Live 8 project in 2005 that accompanied former British Prime Minister Tony Blair's Commission for Africa, on which Geldof served. Their 'Make Poverty History' campaign to scrap debt and increase aid to Africa was severely criticised, but it did raise global awareness of these issues.
The difference between these artist-activists and personalities like N'Dour, however, is that the former have not, so far, run for political office. Raising awareness and speaking at the World Economic Forum in Davos is one thing, but being in the executive is quite another. Dare one say that being a politician is a job?
Haitian President Michel Martelly, for example, was a well-known musician before reaching the highest office in that country. Superstar Wyclef Jean also attempted to stand for president in the election that brought Martelly to power in 2010. N'Dour, who tried to run for president in 2012, is now an advisor to Senegalese President Macky Sall, with the rank of minister.
N'Dour is well liked and must be admired for his grassroots projects and investment in the media in Senegal. But he seems to be diplomatic only when it suits him. During an interview with French media on 16 March, N'Dour surprised some by attacking non-Africans for meddling in Uganda's affairs.
Asked about Uganda's harsh anti-homosexuality laws, N'Dour, who was Senegal's Minister of Tourism until September last year, accused the media and outsiders of dictating to Africa.
'Why don't you rather speak about children dying of AIDS in Uganda?' he asked. N'Dour pointed out that in Senegal, Sall didn't shy away from defending his country's position on gay rights when US President Barack Obama visited in June last year. In Senegal, homosexuality is punishable by up to five years in prison.
The role of musicians, well-known personalities and artists in peacemaking is not a straightforward issue. Throughout history there are examples of famous people who were both artists and activists. In fact, some will argue that all art is political.
Where would women's rights in Africa be without the likes of Miriam Makeba and Brenda Fassie? The 'Free Mandela' campaign in the '70s and '80s wouldn't have gathered momentum without the contribution of artists and musicians from around the world. And how many outside South Africa would have known about Steve Biko if it hadn't been for Peter Gabriel's hit single, Biko?
Artists can indeed change the world. The struggle against apartheid in South Africa is a classic example of how singers and performing artists raised awareness and campaigned to support sanctions and put pressure on the government. In more recent times, rap artists have played a major role in the Arab Spring in countries such as Tunisia in 2011.
Also in 2011, the Senegalese rap group Y'en a Marre (meaning 'fed up') played an important role in the popular protest movement to convince former President Abdoulaye Wade not to stand for a third term.
In the end, Wade managed to have his candidature accepted by the courts, but the mass mobilisation – which included N'Dour – was seen to have contributed to the overwhelming victory of Sall in the March 2012 run-off elections.
Youssou N'Dour is correct when he says – referring to One Africa – that 'a song can get the message out there quicker than a political speech.' Ultimately though, to really work, the message for peace must also come from the politicians.
*The African Centre for Peace and Security Training at ISS Addis Ababa is hosting a training session from 14-25 April 2014 entitled 'The artist as peacebuilder'.
Liesl Louw-Vaudran is a consultant at the Institute for Security Studies.





(No Ratings Yet)


Loading...