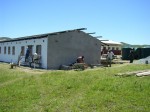 Africa Classroom Connections holds its annual "Freedom Day" gathering on April 30 at the historic Alfred Pillsbury house in Minneapolis, home of Uri and Melissa Camarena.
Freedom Day in South Africa  is marked on April 27 and commemorates the first democratic elections held in that country on April 27, 1994.  This year marks the 20th anniversary of that historic day.
Africa Classroom Connections uses the day each year to raise funds to build classrooms in South Africa, specifically in KwaZulu Natal. Since its founding in 2006, by founder Henry Bromelkamp, the Minneapolis based organization has helped build 55 classrooms that each seat at least 40 students. Over 2,000 South African students benefit each year from using the classrooms the organization has helped build.
It also arranges travel to South Africa for its supporters to experience the work it does on the ground in collaboration at times with Books for Africa, which is also based in Minnesota. This year's travel dates are in August.
At the April 30 fundraiser, guests can expect South African food and wine to be served. A live and silent auction will be conducted, with 100 per cent of the ticket sales going directly to fund classroom building projects, according to the group's leadership.
Tickets are $65 and the link to purchase is available on the Africa Classroom Connections website.
African Classroom Connections "Freedom Day" Fundraiser
Wednesday, April 30 2014 @ 6PM CST
Home of Uri and Melissa Camarena
116 East 22 Street, Minneapolis, MN 55404
Tickets: $65 per person. Buy at Africa Classroom Connections.

Born and raised in Kenya's coastal city of Mombasa, Tom is the Founder, President and Publisher of Mshale. As the founder, he did a lot of the reporting during the humble beginnings of the newspaper. While he still does the occasional reporting, he now concentrates on the publishing side of the news operation. Tom was also the original host of Talking Drum, the signature current affairs show on the African Broadcasting Network (ABN-America), which was available nationwide in the United States via the Dishnetwork satellite service. On the show, he interviewed Nobel laureates such as 2004 Nobel Peace prize winner, Professor Wangari Maathai, the first woman from Africa to win the peace prize and heads of states such as the president of The Gambia, Yahya Jammeh at State House, Banjul. Tom has served and chaired various boards including Global Minnesota (formerly Minnesota International Center), the sixth largest World Affairs Council in the United States. He has previously served as President of the Board of Directors of Books for Africa, the largest shipper of donated books to Africa. He also serves on the boards of New Vision Foundation and the Minnesota Multicultural Media Consortium. Tom also served two terms on the board of the United Nations Association. He retired from running full marathons after turning 50 and now only focuses on half marathons.





(No Ratings Yet)


Loading...