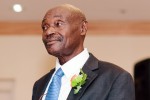 Ishmael Nyangau Gitaa, a Mombasa businessman and benefactor, died unexpectedly Tuesday, September 2. He was 68.
He is survived by his wife Billiah, seven children and seven grandchildren.
He is the father to Mshale Founder and Publisher, Tom Gitaa and Target Corporation Analyst, Lillian Gitaa-Arandi. Gitaa confirmed he got the news of his father's passing late Tuesday and he was in shock. "I just saw him in July when out there and he looked as fit as a fiddle." There was no known illness according to Gitaa. "We will wait for the results of an autopsy our family has requested to determine the cause of death," Gitaa said.
The elder Gitaa was most recently in Minnesota in June to attend his daughter Lillian's wedding. It was the last major family event he would attend, according to Tom. "We will miss him terribly," he said.
Gitaa, until his semi-retirement two years ago, was active with the Coast Chamber of Commerce and was part of previous national trade delegations to East and Central Africa with the Chamber as the Preferential Trade Area (PTA) came into existence. The PTA was later transformed to the Common Market for Eastern and Southern Africa (COMESA). For many years, he was a long-time partner at Masaba Bar & Restaurant, a prominent gathering place in Mombasa for those from Kisii and Nyamira counties. He ran a thriving timber business for many years in the coastal resort city of Mombasa supplying the region's small and major corporations. "It's what paid for our school fees over the years," said Gitaa.
Lately, the late Gitaa and his wife had been splitting their time between his rural home in Nyamira county and Mombasa, his home for over 45 years. He first came to Mombasa as a young policeman in the late 1960s in what turned out to be a short-lived career, as he quickly ventured into business in 1975 after a short stint as the Kenya agent for a Dutch chemical company. "He was in business for himself by the time I was in first grade," the younger Gitaa said.
Funeral arrangements are pending.
Minnesota Memorial Service
A United States memorial service is planned at the Kenyan Community Church in Brooklyn Center, Minnesota on Sunday, September 7 at 4:00 P.M.  The address is 6625 Humboldt Ave N, Brooklyn Center, MN 55430.
Contact numbers: Paul Morande – 952-250-8623; David Bichanga – 612-327-8785; Fred Arandi – 612-396-3418; Renson Obongo – 763-732-2901; Jeremy Ongeri – 763-458-5545 and Jeffrey Chui – 651-243-9104.

Miriam is a general assignment reporter at Mshale.





(1 votes, average: 5.00 out of 5)


Loading...