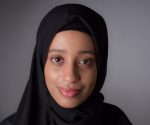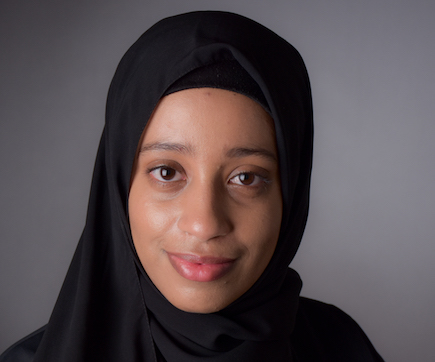 Khadija Abdalla Bajaber, a Mombasa based Kenyan writer, has been selected as the first winner of the Graywolf Press Africa Prize. The award is for a first novel manuscript by an African author primarily residing in Africa. According to Graywolf Press, Bajaber's manuscript, titled The House of Rust, is "the story of a young Mombasa-born girl who goes to the sea to search for her fisherman father, accompanied by a scholar's cat." Her ambitious manuscript, Graywolf adds, "Blends the folk stories of post-independence Mombasa with a coming of age tale, as her protagonist faces the monsters ahead and the demons of her past."
Reached by phone in Mombasa, 27 year-old Bajaber is timid about her big win.
"It's very intimidating and overwhelming. I'm grateful and nervous. There are a lot of great writers in Mombasa, in Kenya, and across the continent. There are so many people who are great storytellers but don't have access to this opportunity. I believed in my work, but I also wish other people had the same opportunity."
In a heartfelt interview with Mshale, Bajaber shares the inspiration behind her manuscript, how Ngugi wa Thiongo's words continue to guide her work and the ride she hopes to take readers on once her debut novel is published in 2020.
How did you find out about the Prize?
I found out about it online. I had a story in mind and I told myself I had to finish it. There was a deadline and I needed to submit this story. I didn't expect to win, but I hoped whoever won was a Kenyan. I feel honored that someone read my work and felt an emotional connection to it.
Your manuscript is about a girl who sets out to find her fisherman father along with a cat, how did this story come about?
 The work I submitted for the competition came out of a sense of being tired of writing things and not completing them. We get a lot of power cuts here [in Mombasa]. I remember we didn't have power [electricity] for two days. It was at night and there was not even a breeze blowing. I had told myself I was going to work on a story based in Mombasa with fairytale undertones and as I was sitting with my mother and my sister in the living room, my mother said, "tell me a story." And so I started this story, not knowing how it was going to end. But that night, I ended it. This is how House of Rust came to be.
Can you talk more about the influence that Mombasa has on your writing and this novel?
I am a Kenyan from Mombasa. The way people [from Nairobi] view people from Mombasa is that they are backward. That all we can offer is food and hospitality, but there is a lot more we can offer. In my writing, I stuck with what I knew and my experience of Mombasa; a more layered coastal town but still playing into some of the stereotypes. My writing is from the inside, and if someone else from the outside enjoys the writing, that is great. I am writing for the people I care about.
What themes reoccur for you in your work?
I don't focus on a specific theme, but it keeps coming out; issues of identity, belonging, being independent versus what is owed to family or society. Honoring where you come from but kind of pursuing things on your own.
Can you tell me more about how your identity affects your work?
I'm a visibly Muslim woman from Kenya, I understand that the world is very hostile toward a lot of the parts that make up my identity. I'm not a historian, I studied journalism but I'm not a practicing journalist. What I care about is not contributing to erasure or overlooking or forgiving it.
You look for your faces, your history, some representation, anywhere—and you have to sort of take what you can get, badly done as it is. I got tired. No one was going to write our stories. How could I only write about the English moors and fantastical places and wait for an outsider to misrepresent my people? I want to write about those places, but I'm not going to wait for someone to write about my home. I'm going to make a lot of mistakes probably, not out of malice or deliberate ignorance, not out of lying—but I'd rather make my own mistakes than get angry when others do it for us. I'm not looking to wow or shock readers with what I write, or creating an uproar. What I care about is not being deliberately or accidentally unkind to others, or to further alienate those who are already being alienated.
What are your hopes for readers of this book?
I want to take people on a ride, if they learn something good! But we're not in class. So just have fun also. You'll know if we're in class, I'll let you know if it's in session. But my book is Mombasa, and it's a ride. I hope that comes across.
Now that you've won the first ever Graywolf Press Africa Prize, what are you looking forward to most?
I got to talk to a lot of people from the Graywolf team, people who know a lot about what they're doing and I feel a little bit like an eager student. I'm 27 years old and I feel a great deal of enthusiasm for learning from those who know more: from the legal team to the editors to the publicists. They've been very generous with me, very helpful and they've made this process so lovely. I'm looking forward to working on the book with them and to absorb all that I can.
Kari, formerly of Minneapolis is now based in Nairobi. She is a writer, born and raised in Kenya, and a true global citizen. When not writing for Mshale, she is actively pursuing justice and equality for all through her writing and activism.





(2 votes, average: 5.00 out of 5)


Loading...