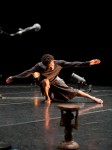 This two-evening program of intimately scaled dance-theater features extraordinary contemporary artists from the African continent and the welcome return of Walker favorite Faustin Linyekula. In both full-length works, Linyekula and Panaibra Gabriel Canda grapple with the complex histories of their countries by reigniting memories of and experiences with their fathers and their own experiences of dislocation, forced emigration, and cultural assimilation. They present, in very different ways, intimate and personal points of view on colonialized and postcolonial Africa, familial and national histories, and our global society—and in the process, reveal the rigor and passions of their contemporary lives.
Tickets
Purchase tickets to both shows for $30 ($26 Walker members) by calling the box office at 612.375.7600. Single show, $22 ($18 Walker members)
Faustin Linyekula: Le Cargo
Friday, November 7, 8 pm
Following the success of his recent work more more more… future, Linyekula presents his first-ever choreographed solo. Le Cargo tells of the artist's return home in search of things lost and the dance, people, and music he reclaimed in the process.
Panaibra Gabriel Canda: Time and Spaces: Marrabenta Solos
Saturday, November 8, 8 pm
Since gaining independence from Portugal in 1975, Mozambique has been a land of social and political rifts in which an inflexible communist model gradually made way for a fragile democracy. This complex history is carried in marrabenta, a musical form born in the 1930s from a mix of local and European influences. Time and Spaces: Marrabenta Solosdeconstructs cultural representations of a "pure" African body. Accompanied by virtuoso guitarist Jorge Domingos, Canda dances and speaks about today's African body that has absorbed the elements of colonialism, nationalism, modernity, and freedom of expression.
Get tickets at the Walker website.





(No Ratings Yet)


Loading...