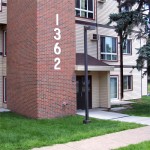 Westminster Place in St. Paul, which is run and owned by CommonBond Community, the Midwest's largest nonprofit provider of affordable housing with services is opening up its waiting list for 2 bedroom apartment homes under the Section 8 program. Section 8 helps low and very low-income households.
The waiting list will open on Monday, November 10 at 1:00pm and go until 4:00pm on the same day and again on November 11 at 1:00pm-4:00pm.
According to information listed on its website, the organization said applications for the 2 bedroom apartment homes must be picked up in person and mailed back within 10 days.
The building provides such amenities as controlled access entry, on-site laundry facilities and is near playgrounds and parks, according to CommonBond.
Abdiaziz Ibrahim, proprty manager at Westminster said the apartment comes with a garage and "the heat is paid."
Westminster Place is located at 1374 Westminster St. Suite 102, St. Paul, MN 55130 and their phone number is 651-772-3123.
Visit their website for more information here.





(No Ratings Yet)


Loading...