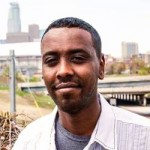 The first Somali-American to win a municipal election in the United States, Councilman Abdi Warsame of Minneapolis, will debut a new column called "Councilman's Corner" in Mshale. The councilman's column will debut in the February 2015 edition of the paper.
Mshale Newspaper was in 2014 named among the "100 Most Influential Ethnic Newspapers in America" by the Newseum and featured in the just concluded yearlong joint Smithsonian/Newseum "One Nation With News For All" exhibit.
The councilman will use the column to update constituents of developments in the Ward and the city at large. The councilman became the first Somali-American elected to the Minneapolis City Council in November 2013 and this past November marked his first anniversary on the council.
"Beyond his responsibilities to his constituents to report and update them on what is going on in the ward, he is a historic figure in our community and I would for sure expect him to share his thoughts and opinions about issues of importance to the larger African community," said Mshale publisher Tom Gitaa after he visited with the councilman on his first year anniversary as a councilman. He will have full independence on what goes in the column, said Gitaa who invited the councilman to write the monthly column.
The column will appear in both the print edition of Mshale and its online property, Mshale.com.
Faiza Abbas Mahamud is Associate Editor at Mshale having started as a Staff Reporter. She has a BA in Journalism and Women's Studies from Augsburg College. She is author of the documentary "Somali Women's Education". She is based in Minneapolis.





(1 votes, average: 5.00 out of 5)


Loading...