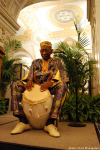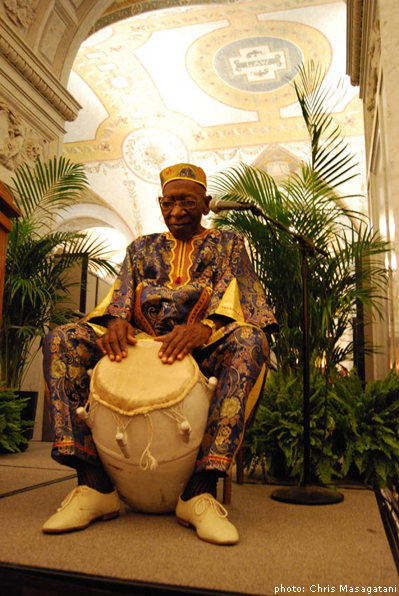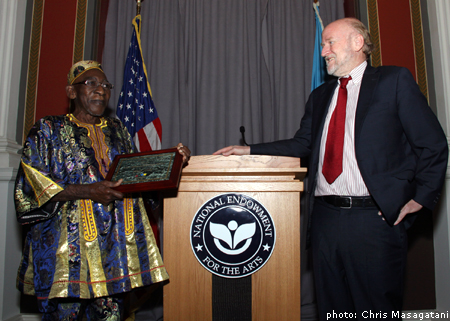 Yacub Addy, drummer, composer and choreographer from the Addy family of drummers, singers and dancers in Avenor, Accra, Ghana, has joined the elders, it was just announced. He was 83.
Addy lived in Latham, upstate New York, and received numerous awards including the National Heritage Fellowship from the National Endowment for the Arts, America's highest honor for folk and traditional arts.
"A master of the traditional Ga music, Yacub Addy is a generous mentor of aspiring drummers as well as a collaborator with jazz and popular musicians, who has created new works that speak to issues of social and cultural relevance today," said NEA chairman Rocco Landesman.
Born in 1932, Addy organized and led the first major staged performance of traditional Ghanaian music and dance at the Accra Community Center in 1956, the year of Ghana's independence
He came to American in 1982 and created the Odadaa performance ensemble while teaching music at both Skidmore College and Rensselaer Polytechnic Institute in Troy, NY. He also taught at the Washington State Cultural Enrichment Program; the Seattle Public Schools; Evergreen College in Olympia, Washington; and Howard University in Washington, DC.
In an interview with the Saratoga Wire, jazz great Wynton Marsalis recalled his collaborator and close friend. "I loved Yacub. My kids loved Yacub," Marsalis said. "I learned so much from him.'
Once, Marsalis recounted, during a rehearsal, Addy explained that a certain piece needed a royal rhythm. "I reminded Yacub that I was American and didn't know much about royal rhythm," said Marsalis. "Yacub looked at me with a broad smile: Brother, that's why you'll never play it right."
In a 1989 review of an Odadaa! Performance at New York's Symphony Space, the New York Times called the 11-member troop of dancers, singers and musicians "irresistible." "Odadaa! is a treasure," the review concluded.
Addy and Marsalis teamed together when they co-composed Congo Square, inspired by the historic park in New Orleans of the same name.
In 2012, the Congo Square group performed their European premiere at London's Barbican Center. The London Evening Standard gave the performance 5 stars, saying that "a musical marriage as meaningful as this has never been realized before."
His passing was announced by Amina Addy, his wife, manager and producer of 37 years.
Global Information Network is an independent, New York domestic non-profit news organization with an office in New York City that gathers and disseminates news from reporters in the field in Africa. It supplies news, analysis, and features to over 300 ethnic and minority newsweeklies nationwide. Its stories have appeared in print, broadcast and web media in the U.S.





(1 votes, average: 5.00 out of 5)


Loading...