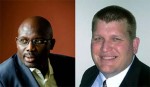 The Organization of Liberians in Minnesota (OLM) will hold its Inaugural Ball on Saturday, March 14 at Northbrook Alliance Church in Brooklyn Center. The occasion is the inauguration of newly elected officers.
Brooklyn Park Mayor Jeff Lunde is the featured keynote speaker. In the past week, there have been calls from sections of the Liberian community to withdraw the invitation to the mayor until he supports a lifting of the amplified noise ban that the Brooklyn Park City Council imposed on the city's parks. African immigrants including those from Ghana, Kenya, Liberia and others spoke passionately at a council meeting last week exhorting it to lift it, as it will disproportionately affect their communities.
OLM board member, Mohammed Dukuly, in an email to the community in the past week has also announced that George Weah, a former soccer player and presidential aspirant, will grace the occasion.
Tickets for the inaugural ball are going for $35 for couples and $20 for a single person. They are available by calling Mrs. Victoria Peabody @ 763-496-7121.
OLM Inaugural Ball
Saturday, March 14 2015 7:30pm
Northbrook Alliance Church
6240 Aldrich Avenue North
Brooklyn Center, MN 55430
Tickets: Mrs. Victoria Peabody @ 763-496-7121

Born and raised in Kenya's coastal city of Mombasa, Tom is the Founder, President and Publisher of Mshale. As the founder, he did a lot of the reporting during the humble beginnings of the newspaper. While he still does the occasional reporting, he now concentrates on the publishing side of the news operation. Tom was also the original host of Talking Drum, the signature current affairs show on the African Broadcasting Network (ABN-America), which was available nationwide in the United States via the Dishnetwork satellite service. On the show, he interviewed Nobel laureates such as 2004 Nobel Peace prize winner, Professor Wangari Maathai, the first woman from Africa to win the peace prize and heads of states such as the president of The Gambia, Yahya Jammeh at State House, Banjul. Tom has served and chaired various boards including Global Minnesota (formerly Minnesota International Center), the sixth largest World Affairs Council in the United States. He has previously served as President of the Board of Directors of Books for Africa, the largest shipper of donated books to Africa. He also serves on the boards of New Vision Foundation and the Minnesota Multicultural Media Consortium. Tom also served two terms on the board of the United Nations Association. He retired from running full marathons after turning 50 and now only focuses on half marathons.





(1 votes, average: 1.00 out of 5)


Loading...