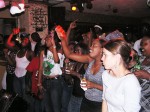 For many revelers looking for an authentic Kenyan dance night far from home, Kenya Night Minnesota's reign at the Blue Nile Restaurant and Lounge, Minneapolis was a monthly guarantee. The long running event, rebranded over time, provided the Kenyan diaspora and larger African community with a place they could gather to hear music that sounded familiar and see faces they could recognize. For many new immigrants, it was also a place they could go to feel at home and discover the Kenyan community in Minnesota.
The sudden and abrupt departure of Kenya Night from the Blue Nile, which hosted its last event at the location in February, left many wondering what was next; both for the Blue Nile a restaurant, an entertainment venue frequented by the African community, and Kenya Night itself.
But as George Ndege (aka "Jojo") of Kilimanjaro Entertainment, who created the monthly event told me "Kilimanjaro Entertainment will always change with the time and continue to provide entertainment to the community." For him and his business this is not the first time they have had to rebrand themselves or change venues.
Beginning as Wakilisha (which means 'represent' in Kiswahili) in 1998 and first hosted at Twins Motor Inn in St Paul, the event which originally included a 30 minute open mic set along with a deejay brought "Kenyans together from all around Minnesota and even neighboring states," and "while it was a Kenyan event, everyone was welcome and before long, its popularity turned it to more of an African night. At that time, there was only a handful of African DJs and very few African events so it was a night that people looked forward to."
The mass appeal of the event could not be denied, however unforeseen circumstances forced Kilimanjaro Entertainment and Wakilisha to take a hiatus in 2002 as they sought a new venue. According to Jojo, the Twins Motor Inn in St. Paul was cleared to make way for new construction and in the mean time his entertainment company focused on concerts and tours as they sought a new location. In 2007 the monthly DJ night found its new home at the Blue Nile Restaurant & Lounge in the Seward neighborhood returning as Wachilia (which means 'release' in Kiswahili).
In its new venue, Wachilia flourished, drawing hundreds of party-goers each night with an estimated attendance of 400 at its peak. People I spoke with who attended Wachilia in its early years report how successful the night was; the music was great, there was free parking to be found (compared to downtown venues), the crowd had a good vibe, and the dancing never ceased.
Sarah, a Kenyan living in Minnesota since 2005 recalls "It was the only place I could go to hear music from back home. It felt like being at K-1 (a nightclub in Nairobi)." She and her friends would make the 1 ½ hr drive from St. Cloud, where they were enrolled in college, making new friends at the event and even bringing their American friends. Kay, one of these American friends, laughs heartily when I ask her about her experiences at the Blue Nile. Born and raised in the Midwest she tells me that it was like traveling to another country, "It felt like I was experiencing something few people get to, everyone was welcoming and the music was great. It was so much fun!"
Over the years though, the Blue Nile location began to prove problematic. Cyrus, another Kenyan living in Minnesota had this to say, "It was okay (at first), but the facility sucked, smelly toilets, lack of cooling system, they didn't take cards, and there was poor service with the bartenders." Jojo alludes to similar problems with the venue, "Some, especially ladies, complained about the building and furniture that was not well kept." This coupled with an aging patronage whose interests were moving past late night dance parties saw the night's popularity begin to decline. But even more concerning was an uptick in violent crime at the Blue Nile, that began in 2013. When asked about the challenges faced at the Blue Nile location, Jojo states, "there was a period when crime went up around Blue Nile, including a parking lot shooting nearly two years ago that scared away some of the customers." Ultimately this may have been the beginning of the demise for Kenya Night and spelled larger problems for the Blue Nile.
City of Minneapolis Action
Attempts to reach Blue Nile owner Fahmi Katabay for comment on this story were unsuccessful, however City of Minneapolis documents show repeated incidents of violence at the Blue Nile that threatened it's operational licenses. In January of 2014, the City of Minneapolis held a settlement conference with Blue Nile owners to address security concerns following a murder in their parking lot. Documents show that the Blue Nile presented a security plan at the time and "explained that the incident was beyond their control since they had shut down the restaurant following the fight inside the restaurant."
Concerns remained however, as police continued to respond to calls resulting from incidents of crime at the property. Neighboring residents likewise began to grow weary of the Blue Nile's seeming negligence over the criminal activity happening on and surrounding its property. As the Current Blog reports, the ongoing and recurrent concerns eventually "led to a city investigation that found the Blue Nile had overstepped its original license agreement by hosting DJs and clearing tables on the first floor rather than presenting music on that floor only as background for dining, as the venue had originally planned." It was these findings that resulted in a new settlement conference in December 2014 in which a public agreement was reached regarding licenses for the venue. The Blue Nile was forced into submitting a new security plan, downgrading its entertainment licenses, and changing its closing hours to 10 pm Sunday-Thursday and 11 pm on the weekends. It was these changes that went into effect in March, that meant it could no longer host entertainment events such as Kenya Night Minnesota.
But fear not, the brains behind the wildly successful and longest running Kenyan dance night in Minnesota already have their next event ready to roll. Repackaged and rebranded, Kilimanjaro Entertainment aims to cater to the older, more sophisticated crowd with their next venture.
New Kenya Night Starts May 2
When asked about the future plans for Kenya Night, Jojo had this to say, "Kenya Night Minnesota returns May 2 at The Lodge 4080 W Broadway, Robbinsdale, MN. This will target a more mature crowd and will start early, about 7:00pm with appetizers and happy hour. It will feature Kenyan and African music." There are also plans for "a second night at Red Sea in Minneapolis for the 20s crowd with reggae, Afrofusion and Hip Hop." This event is not slated to begin until June though. For now, find some place for all those warm, hilarious, or frustrating memories of Wakilisha, Wachilia, and Kenya Night at the Blue Nile, and then make some room for the new Kenya Night Minnesota in your calendar. 
Kari, formerly of Minneapolis is now based in Nairobi. She is a writer, born and raised in Kenya, and a true global citizen. When not writing for Mshale, she is actively pursuing justice and equality for all through her writing and activism.





(1 votes, average: 5.00 out of 5)


Loading...