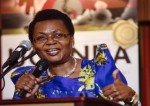 Uganda's Ambassador to the United States, Oliver Wonekha and the United States Deputy Assistant Secretary of State for African Affairs at a Minnesota Trade Office organized Africa Forum titled Business and Political Trends in Africa on wednesday, May 7 at the Hubert H. Humphrey School at the University of Minnesota. The forum is hosted in partnership with Books for Africa.
Times are listed as 2:30 to 5:30pm.
The two will be joined by Eric Schwartz, Dean of Humphrey School of Public Affairs, University of Minnesota and Carlson School of Management Sri Zaheer.
U.S. trade to and from Africa has tripled over the past decade and the U.S. exported $22.6 billion in goods and services to the region last year. A recent commentary by Mshale founder Tom Gitaa on the Twin Cities leading metro daily on why the state's business community needs to do ore trade with Africa has generated a lot of discussion.
Just last week the Carlson School of Management hosted a business conference focused on the continent.
When: Thursday, May 7, 2015, 2:30 to 5:30 p.m. A Reception will follow.
Where: Cowles Auditorium, Hubert H. Humphrey School Conference Center, University of Minnesota, 301 – 19th Avenue South, Minneapolis
Fees: $10, or $5 for students–must show a Student ID. Please pre-register to ensure being included in the catering count.
The fee includes refreshments and the reception.
Registration link is here.
Faiza Abbas Mahamud is Associate Editor at Mshale having started as a Staff Reporter. She has a BA in Journalism and Women's Studies from Augsburg College. She is author of the documentary "Somali Women's Education". She is based in Minneapolis.





(1 votes, average: 5.00 out of 5)


Loading...