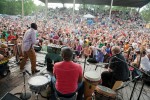 Samite (Sæm ē tay) n. 1.a. World-renowned musician, b. Humanitarian, c. Photographer. 2. Born and raised in Uganda. 3. Travels the world bringing his message of peace and hope through the healing power of music.
Ugandan born musician, Samite, is set to headline the Ordway Center for the Performing Arts' 15th Annual Flint Hills International Children's Festival this coming weekend, May 30-31st. "The world-class family event – one of the largest children's festivals of its kind in the country – showcases diverse art, cultures and perspectives from more than 25 different countries," and "features local, regional and international artists on indoor and outdoor stages in downtown Saint Paul's Rice Park, Landmark Center, Landmark Plaza, Ordway Center for the Performing Arts and the Lehr Theater."
Samite, who will be performing for the first time in Minnesota is equal parts talented musician and humanitarian. In his spare time he is also an avid photographer who captures images of the world through his lens. An accomplished musician with international recognition who counted Wangari Maathai as a "good friend" and produced the soundtrack for the documentary on her life, Taking Root, he finds a special joy in bringing music to youth and victims of war, disease, and loss. Working with local musicians, music therapy students from Berkeley's College of Music, "young Americans looking to make a difference," and others, Samite's non profit, Musicians for World Harmony brings change to people's lives through music.
Trained by his grandfather in the traditional flute, he picked up the Western flute at age 12, over time becoming one of East Africa's most celebrated flutists until he was forced to flee Uganda as a political refugee in 1982. Samite went on to spend 5 years in Kenya before emigrating to the U.S, where he now lives in Ithaca, New York with his wife. While in Kenya, Samite lived briefly in a refugee camp in Thika; an experience that influenced his music and future. In an interview with him, he shared his vision for healing the world through music and what fans can expect at his performance this weekend.
How did you get involved in music?
I do many different kinds of concerts. I bring music into many places; I bring music to orphans in different parts of Africa, to children in Africa, to kids that have been kidnapped and turned into child soldiers. I bring music in helping them in the healing process and also bringing music to women that are abused in war torn places.
But when I'm not doing that, I've found that it helps a lot to bring young people to understand different cultures through music. They're enjoying themselves, then they really realize that they can enjoy culture that is different than theirs; they leave singing in a different language that they didn't even know before they came in. I find that it makes it easier for for one to introduce people to a different culture that way.
So what languages do you sing in?
I sing in a language called Luganda.
Can you tell me about your humanitarian work? You have an organization, correct?
Yes, it's called Musicians for World Harmony. What we do is help people sing again. When you bring music to these places, say you go the Congo, you don't even have to play for so long before people say, "You sit down now, we're gonna sing for you." What it does is it helps people remember how it feels when things are good. It helps them realize that things aren't going to be so bad forever.
We sing for them in a way that you're not just a performer, you're there to share your experience with them. That's what we do.
What can families and people attending your performance this weekend expect?
The families coming should expect to dance, they will really feel good about dancing and they will leave singing. They will also experience hearing instruments that they haven't experienced before like the kalimba, the litungu which is from the Luhya's (tribe) in Kenya, flutes and of course singing.
Do you have any other stops planned or is this your only performance?
This is actually the last stop on the Spring Tour. I've been on tour all over the East Coast, so this is actually the end of the tour.
To catch Samite at his last stop on his Spring Tour, there are four scheduled performances at the Flint Hills International Children's Festival, where he will be backed by three other musicians who he promises "will make a lot of noise." With tickets at $5 the event is as affordable as Samite is likeable. Be sure not to miss it and bring the young ones in tow.
Flint Hills International Children's Festival
Ordway Concert Hall, St. Paul
Saturday May 30th, 10:00 am & 12:00 pm
Sunday May 31st, 12:00 pm & 2:00 pm
Buy tickets

here
Kari, formerly of Minneapolis is now based in Nairobi. She is a writer, born and raised in Kenya, and a true global citizen. When not writing for Mshale, she is actively pursuing justice and equality for all through her writing and activism.





(No Ratings Yet)


Loading...