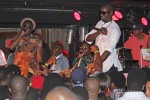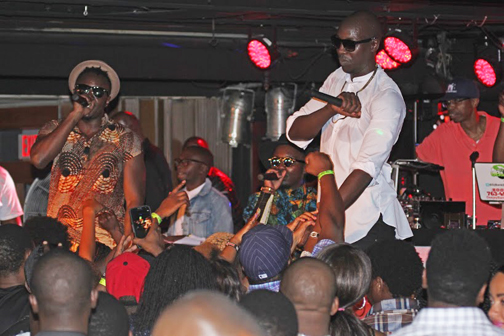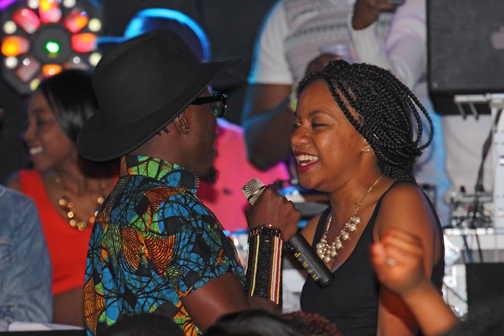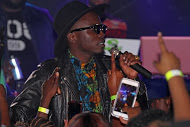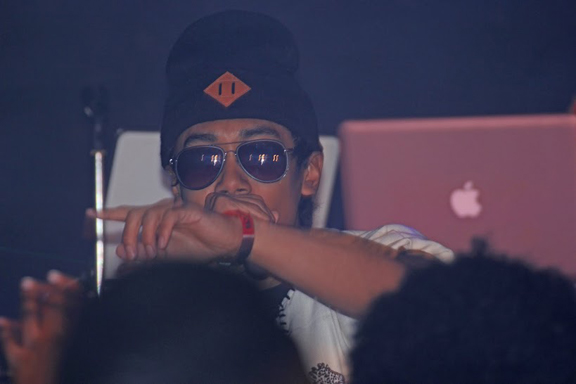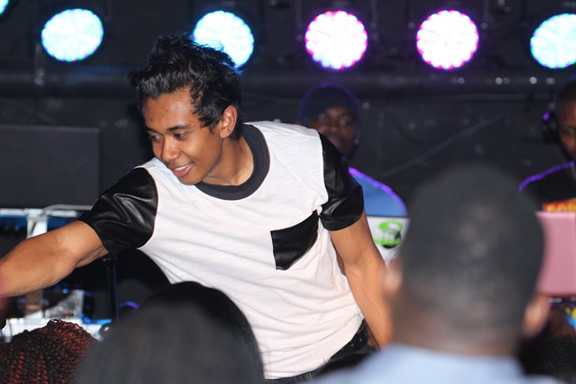 Sauti Sol teased radio listeners with a 20 minute interview on KFAI radio Thursday afternoon when they conversed with the hosts of African Rhythms, Brad Wrolstad and George (Jojo) Ndege, and sang three different songs including their controversial number, Nerea. (Listen here for a limited time to the last 20 minutes)
Immediately after their radio appearance, they sat down to talk with Mshale reporter, Susan Budig. Foremost for Sauti Sol is their desire to remain a Kenyan band, to not leave their country. "We are going to be globally successful, but remain in Africa," Willis Chimano said. He plays the keytar for the band. Other band members include Bien-Aime Baraza, Savara Mudigi and Polycarp Otieno.
One of the singles on their latest, soon-to-be-released album, Live and Die in Afrika, has proved to be highly controversial at least here in the United States. Nerea, said Baraza, "is pro-responsibility for the man. It represents a new generation of African man who is taking responsibility."
However, an alternative interpretation of the song has many listeners stating, unhappily, that the song promotes anti-choice views regarding pregnancy. Baraza firmly contended that "musicians are there to spark discussion on controversial topics." He felt that as long as a man steps up and takes care of his children, polygamous marriage or relationships aren't a problem.
Jojo of Kilimanjaro arranged for the band to appear live in the studio at KFAI radio as a preview for their performance, the first of their current US-tour, at Club C'est La Vie in Spring Lake Park, Minnesota on Thursday, May 21, 2015.
The show, billed as starting with dueling DJs at 8 pm, took a turn into the surreal when the band did not appear until 1 o'clock in the morning. The DJs moved beyond dueling one another and began fighting to maintain a high energy-level of the slowly growing crowd as we awaited the main act.
By the time the audience topped out at around 300 people, rapper, Fanaka Nation, had thoroughly warmed the spectators made up of all areas of Africa with the East African segment offering the loudest cheers. A friendly competition lead by Fanaka helped determine audience demographics.
As the Kenyan band took stage, the crowd began cheering and then screaming. With only inches separating the dance floor from the stage, it was easy to reach up and touch the band members, which many in the audience quickly did. Security was on high-alert when onlookers grasped too firmly or intimately. Muscled men moved in, wearing blue shirts, to shoo away admiring fans or unhook hands from shirts and more.
The adoration is genuine and honestly deserved. The band, together since their high school days in 2005, in Nairobi, has been accumulating recognition and awards as of late. Last year's MTV EMA Award as Best African Band and most recently, a BET (Black Entertainment Television) nomination, has accompanied the band into exciting success. The noted absence of any other media such as the Star Tribune or City Pages, is both disdainful and short-sighted.
The band's voices on the radio earlier in the day promised a gorgeous night of music. Unfortunately, our eardrums had been pummeled raw by the five hours of synthesized music with decibel levels near 120 dB before Sauti Sol took  the stage. Their barely hour-long appearance might have left some paying customers disgruntled.
Despite the sound level and lateness of the show, fans were over the moon. The band sang harmonies and favorite songs especially aimed to satisfy the Kenyans in the crowd. Saturday, May 23rd will see the band in Washington, D. C. and Monday in Dallas, Texas. Tickets available on their website. www.sauti-sol.com
Susan is based in Minneapolis and reports on general assignments for Mshale with a focus on entertainment. In addition to reporting, she is also a writer, poet, teacher and coach.





(1 votes, average: 5.00 out of 5)


Loading...