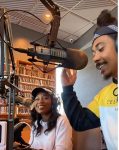 Fanaka Nation brings hip hop and World-music sounds together when he performs. He'll host a dance party at The Cedar Cultural Center in Minneapolis on December 10th. By then, we'll be two weeks into the snow, ice, and wind and ready to move at the very least to the music of this African-fused rapper and also to the music of Nigerian-American Carolyne Naomi.
Not only live-music, this AfroBeat Dance Party presented by The Cedar and curated by George Ndege aka JoJo of TAMU Events will feature DJ Fawzi and DJ K-Little spinning as the crowd dances.
Mshale caught up with Fanaka Nation, host for the evening. Fanaka Nation recounted how the idea of a show focused on dancing and not only music emerged. "We chatted with The Cedar and said, let's switch it up and do a dance party, bring AfroBeats to the West Bank. Spice things up," he said.
Fanaka Nation described how the evening would play out. "When the DJs are up, my position is to welcome everybody in, make announcements, tell people what's coming up," he said. "I'll be the Lit Energy, that's my moniker," he said with a laugh.
Doors for the all-age show open at 7 pm and if the past can foretell the future, the Cedar will have music over its PA system and people will be dancing early. The standing-room only show, slated to last three hours, starts at 8 pm. Tickets available on The Cedar's website or at the door.
Susan is based in Minneapolis and reports on general assignments for Mshale with a focus on entertainment. In addition to reporting, she is also a writer, poet, teacher and coach.





(1 votes, average: 5.00 out of 5)


Loading...