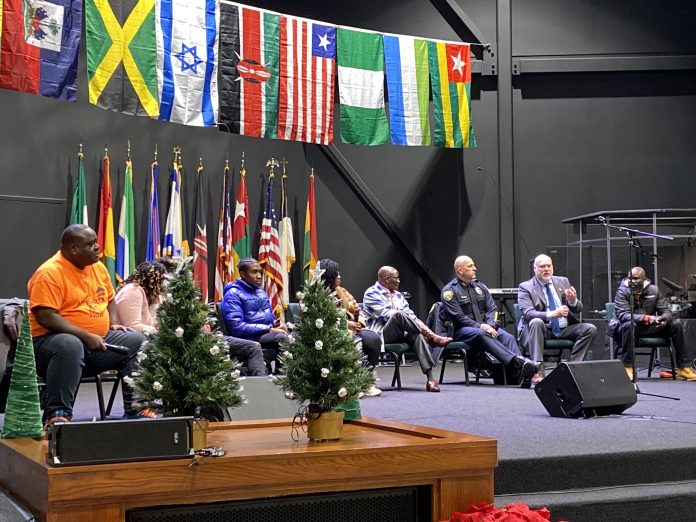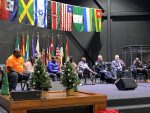 The Nov. 18 fatal shooting of 17-year-old Syoka Siko has brought the African community in the Twin Cities together to try and find a solution to what leaders say is an increasing trend of gun violence. On Thursday, the Organization of Liberians in Minnesota (OLM) hosted politicians, religious leaders, and concerned parents at Ebenezer Community Church in Brooklyn Park to address rising incidents of gun violence and gang membership among Black adolescents in the Twin Cities metropolitan area.
"No parent should have to bury their child," Alvera Voss, the teenager's Tanzanian-born mother said as she sobbed.
Rates of youth-involved gun violence in the United States depict a sobering trend. Communities of color continue to experience the highest rates of gun homicides, with Black Americans between the ages of 15 to 34 more likely to be victims than any other demographic, according to a study published in April by the Johns Hopkins Center for Gun Violence Solutions. Another analysis of data by the Kaiser Family Foundation found that despite Black children comprising 14% of the nation's children, they accounted for 46% of firearm-related deaths in 2021.
Siko was murdered when his friend, who was in a vehicle with him, fired a gunshot police believe was intended for a target outside the vehicle, according to various news reports. The suspect was said to be carrying what is known as a "ghost gun" which is untraceable because it does not have a serial number. Ghost guns are often purchased from individuals, rather than a licensed seller, which allows the buyer to circumvent background checks.
On Nov. 14, just 4 days before Siko's death, 17-year-old Yaseen Johnson was fatally shot by 19-year-old Liberian American Augustus M. Sirleaf, Jr. following an altercation over designer sneakers. During OLM's discussion, residents were asked to reflect on the tragic cases and think about how families could be more proactive in preventing gun violence among youth.
With her eyes welling with tears, Voss urged the young people to turn to their parents, as opposed to violence, if they are experiencing conflict with their peers. Voss also encouraged any adult involved in a child's life to play the role of "parent" when they see a behavioral issue. When she was growing up in Tanzania, it was rare for conflicts to escalate to violence because children not only had their parents, but also the community to support them.
"In Tanzania as a child, if your neighbor says 'Stop', you stop," she said. "But in America, if the neighbor tells a kid to stop, the kid will say 'Who are you to tell me what to do?' Kids need a network of adults they can trust so can be guided and not fall into trouble."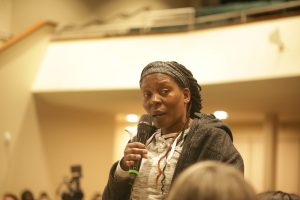 Brooklyn Park Police Chief Mark Bruley spoke about the cases of youth violence he had witnessed in the community. Despite historic racial tensions with law enforcement, Bruley said he still believed police could play a role in effectively mitigating fatalities among Black youth.
"We don't want to put your kids in jail," he said. "But sometimes the solution is to love your children enough to hold them accountable."
Bishop Harding Smith blamed absent fatherhood and a weak familial structure for the rise in violent crimes amongst the youth. Echoing Voss, he reiterated the importance of parental involvement in the healthy development of children and teens. More than anything, he said, it is crucial for parents to ensure their kids remain occupied.
"Our kids' idle minds are getting them into trouble," Smith said, who is also the founder of Minnesota Acts Now, an organization that helps underserved communities access support in times of difficulties.
Smith urged adults to mentor young people and encourage them to explore things like sports before they are exposed to gangs.
But Aja King, who works as a clinical counselor, said that while parental involvement could help curb delinquent behavior, it has its limits. While parents can do their best to instill values in the home, once they are old enough to be spending time outside of the home with their friends, it is impossible to control who influences them, she said.
"I've treated thousands across many states, and whether a child comes from a two-parent home or a single parent home, they are their own entity when they leave your house," King said.
King also acknowledged that gang membership was increasing among Black youth because many lack a feeling of belonging, which gangs provide. She said that addressing the crisis of Black youth and mental health could help to reduce aggressive behaviors and gang participation in Black youth.
"We need to be proactive about encouraging our children to explore healthy avenues of fulfillment so that they do not get sucked into the gang life," King said.
Brooklyn Park healthcare professional Arthur Biah said the recent killings resonated with him. As a parent to a 14-year-old daughter and son in his 20's, Biah said that tragedies of this nature were a parent's worst nightmare. He said he hoped community discussions would bring about communal healing.
"I want to see this trend end in our community, and it will take a village for us to get there," Biah said.

Panashe is a general assignments reporter.





(No Ratings Yet)


Loading...