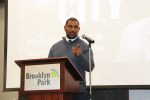 In his first State of the City speech, held in the Community Activity Center's grand room on Thursday, Mayor Hollies Winston of Brooklyn Park touted the city's recently implemented "Alternate Response Team" that pairs social workers and paramedics on some 911 calls.
In an address that was heavy on public safety and economic development issues, the city's first Black mayor said the new response model "allows the police to deal with more difficult issues and frees up capacity for them to deal with other things," instead of tying their time dealing with societal issues.
"I'm tired of hearing about crime going up because the economy is down, and then going down because the economy is up," Mayor Winston said. "We need a model where over time consistently moving crime further and further down because we understand the underlying concepts."
Since taking office in January, Mayor Winston has emphasized the need to work closely with other cities and government agencies to deal with crime, which on Thursday he called both a "regional and nationwide issue not unique to Brooklyn Park." To that end, the mayor said Police Chief Bruley has in recent times been working closely with his counterparts in neighboring cities and the county, to better deal with criminals who are "usually transient" and move within the metro area.
"There is going to be a regional coordinator position," the mayor said to coordinate between the cities in their responses to the criminal networks.
The mayor also highlighted key investments the city made using the $11 million it received through the American Rescue Plan, pointing out $2.6 million was allocated to businesses and nonprofits that provide support services to the community, as well as workforce development. The mayor applauded the investments, which were approved prior to him taking over in January, because "they had an impact in more than half of Brooklyn Park."
Mayor Winston also addressed the city's efforts to establish a small business center at the intersection of Brooklyn Blvd. & Broadway Ave., property that includes the Northwind Plaza strip mall that the city has owned since October 2021. When completed, it will provide coworking and retail space for small and microbusinesses. Setup under the aegis of the city's Economic Development Authority, the center aims to ensure rents for the businesses already on the property remain affordable as property values in the area skyrocket.
"The wonderful thing about that (business center) is that it's both affordable and it is going to be beautiful," Mayor Winston said. "Really nice, upscale and really represents where we want Brooklyn Park to go."
The mayor also announced efforts to establish a teen center, saying he is aware the city has not invested as much in youth resources "as you would like." He said future announcements will be forthcoming on the city's efforts in that front, adding that securing such a center will require "getting the right partners" at the state and federal levels.
Brooklyn Park resident and attorney, Ms. Peggy Larkin, praised the mayor's promise to focus on youth programming.  She said Mayor Winston so far seems to be delivering on his campaign promises.
Ms. Larkin was among two Brooklyn Park individuals honored by the city for their volunteer service, including Met Council Member Reva Chamblis, a former human rights commissioner for the city. The African Minnesota Women Awareness Group (AMWAG) was also honored for its efforts at addressing domestic violence.
"What I am liking (about the mayor) is the model for violence interruption and community services," said Ms. Larkin. "We are becoming a city that will wrap around our citizens and give them what they need to improve their lives."
Mr. Jim Skelly, the executive director of communication and public relations at Anoka-Hennepin School District, described the mayor's speech as "inspiring." About 3,000 Brooklyn Park students attend the district.
"I have been around Brooklyn Park for over 40 years and there was a different tone to this speech, more of a realization that there is more to come," said Mr. Skelly.
He said the mayor did a good job addressing the community's concerns and assuring them the city is with them "for the long haul."
AMWAG co-founder, Ms. Elizabeth Marigi, is a Brooklyn Park resident and businessowner who operates a medical training school in the city. She said Mr. Winston is the third mayor that she has worked with in recent years, both as a resident and entrepreneur, and she was glad to see him continue making the city attractive to business and newcomers.
She however has one ask for the mayor and City Council that she hopes to present soon through AMWAG.
"We would like a shelter where we can house the women fleeing domestic violence," Ms. Marigi said. "This mayor has shown us he is a problem solver and supports everyone regardless of who they are – including the most vulnerable."
This story has been corrected to reflect Mr. Jim Skelly's correct title with the Anoka-Hennepin School District.

Born and raised in Kenya's coastal city of Mombasa, Tom is the Founder, Editor-in-Chief and Publisher of Mshale which has been reporting on the news and culture of African immigrants in the United States since 1995. He has a BA in Business from Metro State University and a Public Leadership Credential from Harvard's Kennedy School of Government. He was the original host of Talking Drum, the signature current affairs show on the African Broadcasting Network (ABN-America), which was available nationwide in the United States via the Dish Network satellite service. On the show, he interviewed Nobel laureates such as 2004 Nobel Peace prize winner, Professor Wangari Maathai, the first woman from Africa to win the peace prize and heads of states. Tom has served and chaired various boards including Global Minnesota (formerly Minnesota International Center), the sixth largest World Affairs Council in the United States. He has previously served as the first Black President of the Board of Directors at Books for Africa. He also serves on the boards of New Vision Foundation and the Minnesota Multicultural Media Consortium. He has previously served two terms on the board of the United Nations Association. An avid runner, he retired from running full marathons after turning 50 and now only focuses on training for half marathons.





(No Ratings Yet)


Loading...