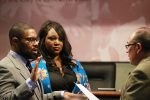 Hollies Winston, the businessman that successfully sold a vision of an inclusive city to voters in November, the grandson of a Mississippi sharecropper and son of retired corporate executives, was officially sworn in Monday as Brooklyn Park's first Black mayor.
In the chambers of Brooklyn Park's City Council, Mr. Winston, 43, clad in a slate green blazer that belonged to his late grandfather, took the oath of office and delivered brief introductory remarks that outlined his desire to foster the city's strengths that include "diversity, dedicated city staff and our wonderful institutions."
"While we have some challenges we have to face, which I talked about while in the campaign trail, we (city) have some real great strengths that I want the residents to know that the real strength to my mind is them," Mr. Winston said. "I ask you to continue to be involved. I thank you for your trust in putting us up here. We very much understand the responsibility that comes with that."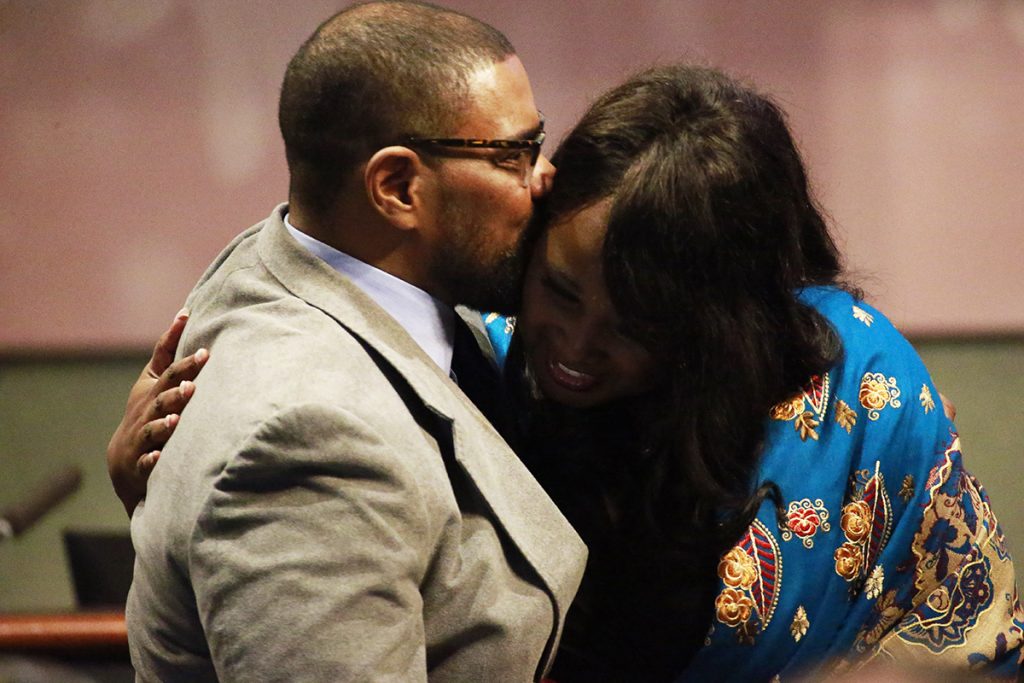 The oath of office to swear in the first Black mayor in city history was administered by City Clerk Devin Montero shortly after 6 p.m. Looking on from the crowd were local leaders such as James Burroughs, who lives in the city, and is the former State of Minnesota first chief inclusion officer.
Mr. Winston's wife, Latrice, held the bible for him as he took the historic oath. Their three children sat in the front row. Their oldest, Tierney, is a freshman at New York University. She said she was glad she did not have to make a special trip home for the swearing in as she was already here for winter break.
Tierney Winston said she loves her father because he practices what he preaches.
"He is always telling us to get involved in the community and to make sure we vote, I was lucky I turned 18 last year in time to vote for him" Ms. Winston said.
Also read: April Graves, Brooklyn Center's first Black woman mayor takes over amid calls for police reform 
The new mayor, speaking to the media moments before taking the oath of office, promised to focus on livability issues in apartments, especially at Huntington, as well as crime and economic development, in that order. Water quality will be a consideration, although not a top priority, he said.
"We just want to make sure that Brooklyn Park works for all and everyone," Mr. Winston told Mshale as he waited to be sworn in.
Mr. Winston said despite the spike in crime the city witnessed last year, he has a lot of faith in Chief Mark Bruley, saying he "has been doing a great job and has the right approach."
"I just want to make sure they (police) have the support they need such as violence interrupters, so we are going to double down on that" Mr. Winston said.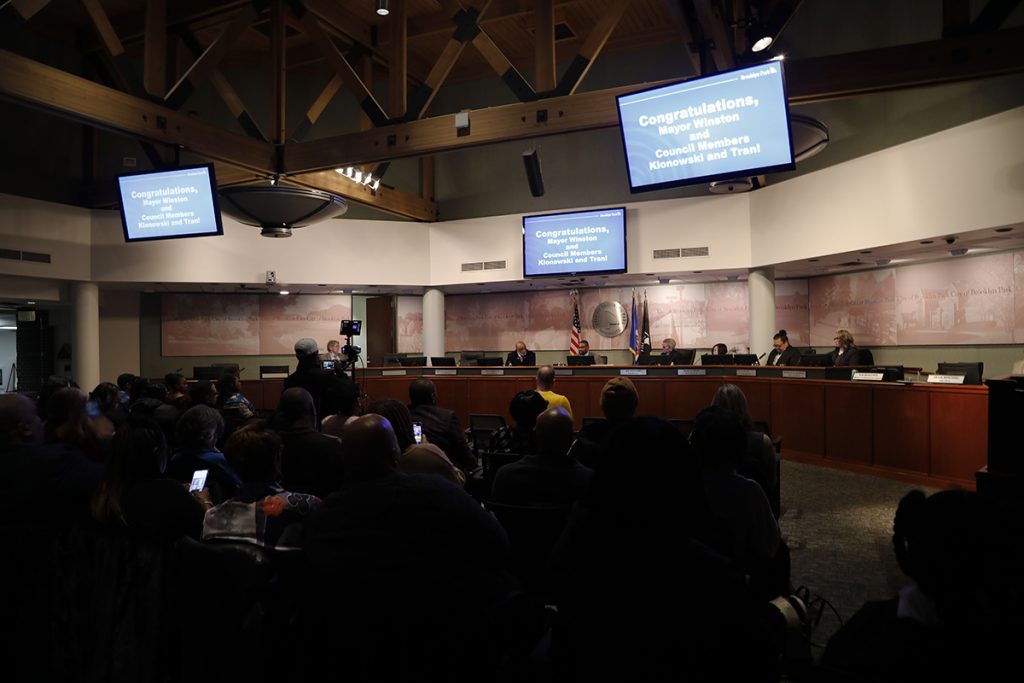 Chief Bruley who was present at the swearing in, said he looked forward to working with the new mayor whom he described as a great supporter of the police. The chief described the election of new leaders as "always refreshing as they bring in new ideas we might not have thought of and excited to see where the new Council will take us."
"When we were doing community meetings he always showed up, he is very supportive of the police and his vision aligns with my vision of a police department," said Chief Bruley.
The city, Minnesota's sixth largest and fourth largest in the metro, was incorporated as the Village of Brooklyn Park in 1954, and incorporated as a city in 1969, according Brooklyn Historical Society. The city's mayor from 1991-1994 was Jesse Ventura who went on to become Governor of Minnesota in 1999.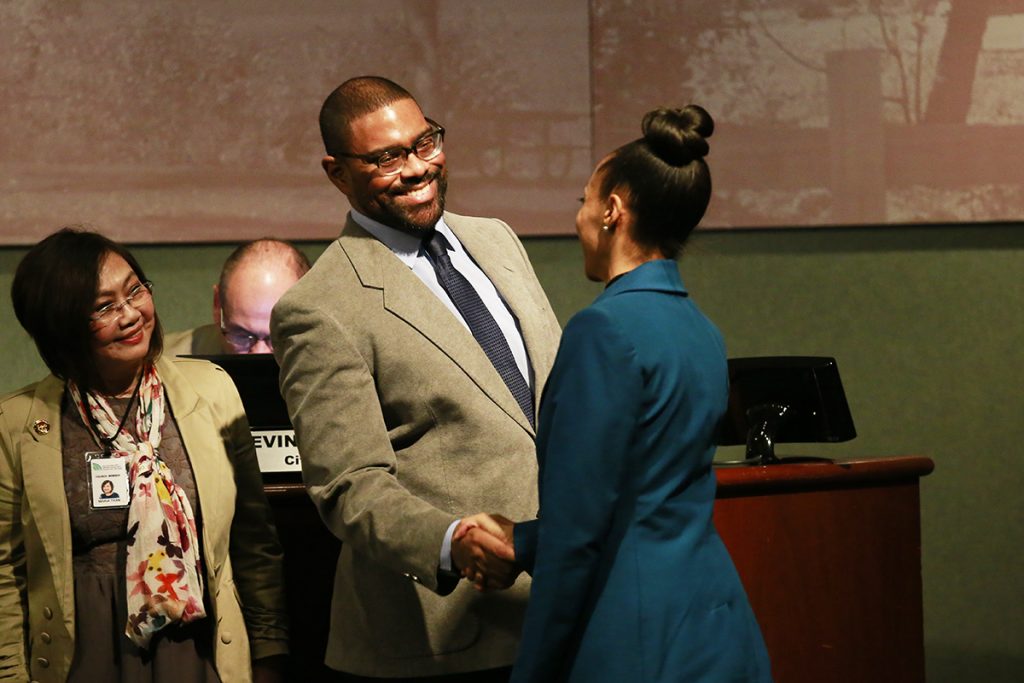 Changing demographics in the last 20 years is what has brought the city to the present, where the grandson of a sharecropper is now mayor. People of color now form close to 58% of the city's almost 85,000 people, and it was evident from the crowd that showed up to witness the historic swearing-in. Amongst the crowd was Jude Nnadi, a Nigerian American businessman that lives in Brooklyn Center with a business in Brooklyn Park. His city of Brooklyn Center was also making history an hour later by swearing in its first Black female mayor. He said he was glad Brooklyn Park's oath ceremony was an hour before Brooklyn Center as he planned to witness both in person.
"This is a very good thing for our cities as our elected leaders now look like the cities they are leading," Nnadi said.
During Mayor Winston's swearing in, the city also swore in two of the three new Council members elected in November. Councilmembers Maria Tran and Nichole Klonowski will represent the West and Central Districts. Christian Eriksen who was also elected in November to represent the East District had given notice he will be absent. He will be sworn in at a later date.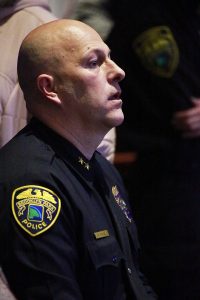 After the swearing-in formalities completed, Mayor Winston chaired his first City Council meeting. Among the first official duties he performed included welcoming new city employees, including new assistant city manager Dr. Angel Smith whose first day on the job was Monday, and two new police cadets. The Council also voted Councilmember Xp Lee as Mayor Pro Tem, succeeding Susan Pha who got elected to the state Senate in November. Pha's elevation to the state Senate will require a special election to fill the remainder of her term on the Council. On Monday, the Council declared the seat vacant which triggers a special election later this year based on a timeline determined by state statue.
Paula Weakly, a retiree, has lived in Brooklyn Park for over 30 years and could not conceal her excitement over the new changes on the Council. She proclaimed herself an enthusiastic Winston supporter. She said she looks forward to something finally being done at Huntington.
"It is always good to have new people come in with new ideas, and I am very sure Hollies will come through for Huntington," said Weakly.

Born and raised in Kenya's coastal city of Mombasa, Tom is the Founder, Editor-in-Chief and Publisher of Mshale which has been reporting on the news and culture of African immigrants in the United States since 1995. He has a BA in Business from Metro State University and a Public Leadership Credential from Harvard's Kennedy School of Government. He was the original host of Talking Drum, the signature current affairs show on the African Broadcasting Network (ABN-America), which was available nationwide in the United States via the Dish Network satellite service. On the show, he interviewed Nobel laureates such as 2004 Nobel Peace prize winner, Professor Wangari Maathai, the first woman from Africa to win the peace prize and heads of states. Tom has served and chaired various boards including Global Minnesota (formerly Minnesota International Center), the sixth largest World Affairs Council in the United States. He has previously served as the first Black President of the Board of Directors at Books for Africa. He also serves on the boards of New Vision Foundation and the Minnesota Multicultural Media Consortium. He has previously served two terms on the board of the United Nations Association. An avid runner, he retired from running full marathons after turning 50 and now only focuses on training for half marathons.





(1 votes, average: 5.00 out of 5)


Loading...