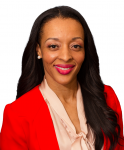 The Brooklyn Park City Council in its last meeting for 2022, on Dec. 12, voted unanimously to appoint Dr. Angel Smith as the city's new assistant city manager. Dr. Smith will also be director of the administration department. She takes over from Wokie Freeman-Gbogba who left in August to lead operations at Youthprise, a Minneapolis nonprofit.
Her official start date will be January 9, 2023. That is also the day a new council that includes a new mayor will be sworn in.
Dr. Smith, a native of Florida, is moving over from neighboring Brooklyn Center after a five-year stint as that city's communications director, and most recently its interim assistant city manager.
During her time in Brooklyn Center, she was responsible for crisis communications as the global spotlight turned on the city after the killing of Daunte Wright by former officer Kim Potter, which happened as the trial of Derek Chauvin was wrapping up in Minneapolis.
City Manager Jay Stroebel, as he introduced Smith to the council, said her hiring came after "she rose to the top of an applicant pool of 82 different folks that applied," and noted that the selection process included "three rounds of interviews" and five panels comprised of among others, community members, community partners, staff members and Mayor Jacobson.
Dr. Smith joins a small group of Black professionals in the nation serving in the role. Ever since the city manager role was introduced in city government early in the 20th century, Blacks still form a small percentage of the city and county management demographic, according to International City/County Management Association (ICMA).
The Bureau of Labor Statistics, a federal agency, puts the number of Black city managers at a mere 3 percent and Latinos at just 6 percent.
Outside of major cities like Minneapolis and St. Paul, most suburban and rural towns in Minnesota have the council-manager form of government, as is the case in most of the United States.
Dr. Smith comes to Brooklyn Park with a wealth of experience beyond her time in Brooklyn Center.  She has had a 20-year career in various state and local government roles in Florida, Wisconsin and Minnesota.
She holds a BA in Legal Studies and Public Administration and a MA in Non-Profit Management and Public Administration, both from University of Central Florida. Her PhD in Organizational Leadership is from Nova Southeastern University.
Dr. Smith is Minnesota chapter president of the National Forum for Black Public Administrators (NFBPA). NFBPA will hold its 2023 national convention in Minneapolis and Dr. Smith is chair of the host planning committe.
"I just want to tell you how excited I am to be joining the team, I have been involved with a lot of the work here over the last 5 ½ years with the city of Brooklyn Park in my role at Brooklyn Center and I feel I am already home," Dr. Smith said in brief remarks before the council.

Born and raised in Kenya's coastal city of Mombasa, Tom is the Founder, Editor-in-Chief and Publisher of Mshale which has been reporting on the news and culture of African immigrants in the United States since 1995. He has a BA in Business from Metro State University and a Public Leadership Credential from Harvard's Kennedy School of Government. He was the original host of Talking Drum, the signature current affairs show on the African Broadcasting Network (ABN-America), which was available nationwide in the United States via the Dish Network satellite service. On the show, he interviewed Nobel laureates such as 2004 Nobel Peace prize winner, Professor Wangari Maathai, the first woman from Africa to win the peace prize and heads of states. Tom has served and chaired various boards including Global Minnesota (formerly Minnesota International Center), the sixth largest World Affairs Council in the United States. He has previously served as the first Black President of the Board of Directors at Books for Africa. He also serves on the boards of New Vision Foundation and the Minnesota Multicultural Media Consortium. He has previously served two terms on the board of the United Nations Association. An avid runner, he retired from running full marathons after turning 50 and now only focuses on training for half marathons.





(2 votes, average: 3.00 out of 5)


Loading...