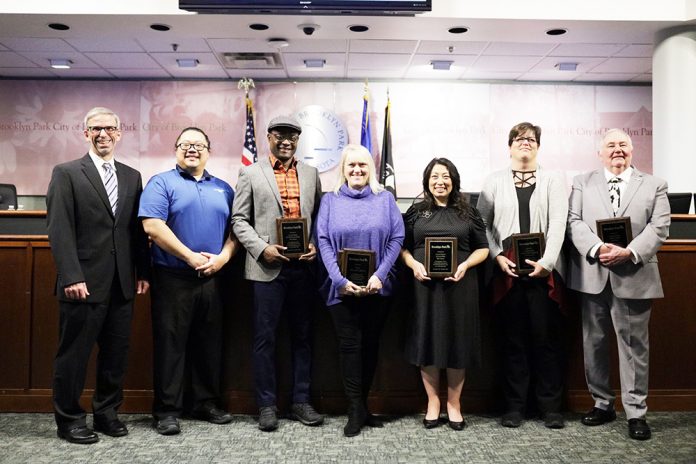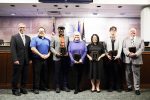 Brooklyn Park Mayor Lisa Jacobson held her last city council meeting Monday, joined by outgoing councilmembers who also came to say their final goodbyes. The council meeting also served as a forum to discuss the future of the city's facilities, infrastructure, and the wellbeing of the community.
"I've been serving this community for the past 38 years, so this is really an emotional day," Jacobson said, wiping her eyes at the podium.
In addition to wishing departing city officials well, the council meeting addressed some of the hot-button issues that Brooklyn Park has been facing for years mainly regarding community wellbeing. Safety has been a major concern for the city's residents, which was highlighted last month by the fatal shootings of two 17-year-olds – Syoka Siko in Brooklyn Park, and Yaseen Johnson [a Brooklyn Park resident killed] in nearby Plymouth – which happened just one week apart.
Another issue raised was the public transit system. After years of planning, Brooklyn Park will have light rail going through the city that would be accessible to its residents in a project known as the Blue Line Extension, according to Metropolitan Council. The extension would run from downtown Minneapolis to Brooklyn Park and is aimed at connecting the region's diverse population with educational and job opportunities outside the suburban city.
Situated west of the Mississippi River in northwest Hennepin County, Brooklyn Park has a population of around 84,000 residents, the sixth largest in the state. More than half of the city's population are people of color, with non-white ethnic groups (Black, Asian, American Indian/Alaska Native, nonwhite Hispanic and Native Hawaiian/ Pacific Islanders) making up 60% of the population, according to Minnesota Compass.
Jacobson did not seek re-election and will be succeeded by Hollies Winston, who made history in November when he was elected Brooklyn Park's first Black mayor. Jacobson said that although she entered politics at the urging of her supporters rather than her own desire to run, once she was in public service, she made an undying commitment to serve that lasted 38 years.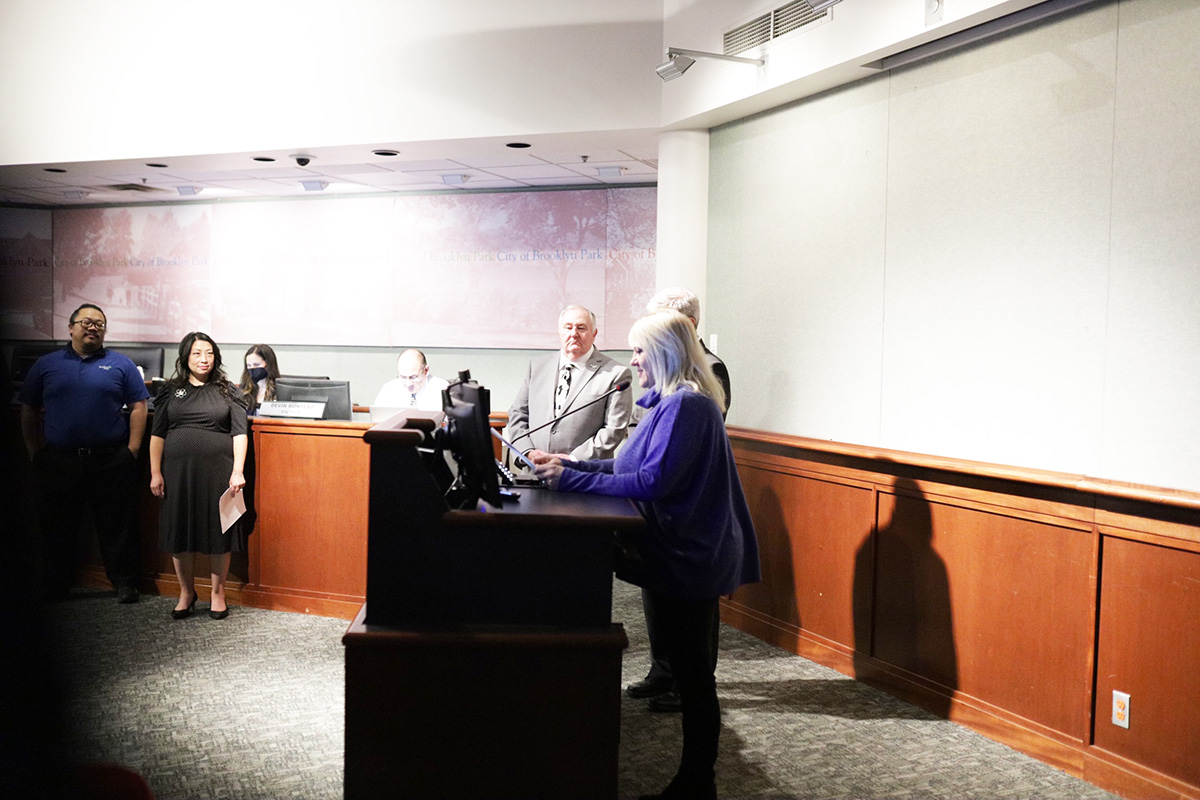 "In my whole career, I've missed one city council meeting when I was in the hospital," she said. "That's how dedicated I am to this job."
Outgoing councilmember Susan Pha, who is leaving after she was elected to the Minnesota State Senate in November to become the third Hmong American in the upper house of the state legislature, reflected on her experience serving her city since 2016. Pha has been involved in community service through volunteering and board positions at organizations such as Brooklyn Park Economic Development and Brooklyn Bridge Alliance. Although she would miss being able to serve at the local level, she said that she looked forward to the responsibilities her new role would bring.
"I am most excited about advocating for policies that will benefit everyone across the state and improve the lives of families and people," Pha said.
Councilmember Tonja West-Hafner, who lost her re-election bid to Maria Tran, said that the hardest part about being on the city council was not being able to complete projects within the timeframe of a term. Hafner shared her involvement in advocating for homeowner loan programs, rental assistance, and the approval of the Blue Line station. Nevertheless, she expressed pride in the work she had done, and even alluded to a potential return.
"I'm not going anywhere," Hafner said. "It's been an honor to do this work, and don't be surprised if you see me back up there in the future."
Liberian-born Wynfred Russell, who instead of running for re-election to his city council seat in November chose to run for mayor but lost to Winston, was also honored for his service in a city council resolution. Russell thanked voters for electing him in 2019 to represent the West District, and his colleagues at City Hall for having confidence in him.
"The work continues," Russell said, who during his tenure served on several committees and commissions, including the city's Economic Development Authority. "We're not going anywhere. We're in this city. We'll continue to do what we've aways been doing as we continue to do right by the people of Brooklyn Park."

Panashe is a general assignments reporter.





(2 votes, average: 5.00 out of 5)


Loading...