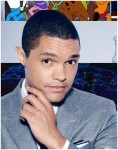 Late night's only millennial host opens up about his first month
On Sept. 28, the final piece of the recast late-night lineup clicked into place with the debut of The Daily Show With Trevor Noah. Replacing an icon like Jon Stewartafter 16 years would be a daunting task for anybody, much less a relative unknown like the 31-year-old South African comedian. But Noah started strong ("Assured, handsome and with a crisp delivery, Mr. Noah was a smoother presenter than Mr. Stewart," proclaimed The New York Times), and he has improved markedly every night since.
When Stewart announced in February that he was stepping down as Daily Show host, Comedy Central offered the job to big names like Amy Schumer before settling on Noah, who started as a Daily Show contributor last December. The network is betting on Noah's long-term potential to reach millennial audiences (see "In Just Nine Months, Comedy Central Reshaped Late Night—and Kept Advertisers Happy"), and so far, so good. While ratings have dipped versus Stewart (which Comedy Central anticipated), more than half of the show's 18-34 audience is new to the show under Noah, according to the network. Meanwhile, advertisers have stayed loyal. According to SQAD NetCosts, The Daily Show with Trevor Noah boasts the second-highest 30-second ad rates in late night, behind only The Tonight Show with Jimmy Fallon.
After wrapping his first few weeks in the chair, Noah sat with Adweek to talk about easing into his role, what he thinks about brand integrations, plus the crazy consumerism that has come to define the holidays in America and the world.





(No Ratings Yet)


Loading...