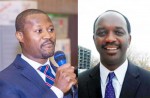 Kenyans and Liberians in Minnesota are in a state of shock after bodies of two members of their communities that share a first name were discovered within 24 hours of each other.
32-year-old Henry McCabe's body was found Monday on Rush Lake in New Brighton at 4:20pm. He was originally from Liberia and resided in the City of Moundsview with his wife Kareen and their two daughters ages 10 and 2. He was last seen on September 7 in the City of Fridley, about 6 miles from where his body was found on Monday.
He was an auditor with the Minnesota Department of Revenue.
Members of the community have conducted numerous searches since he went missing.
Moundsview Police Chief, Tom Kinney, was quoted Monday as saying McCabe's death "does not appear to be suspicious," but that the cause of death is undetermined "pending toxicology results." He however said the investigation continues.
David Singleton, the chief executive of Minnesota Community Policing Services, has taken a different view and he was quoted in a Startribune story saying he thinks someone else was involved in McCabe's death.
Less than 24 hours after McCabe's body was discovered, a Kenyan, Henry Gichaba was found dead in his apartment in Robbinsdale, about 10 miles south of New Brighton.
Robbinsdale Police Chief Jim Franzen in a telephone interview told Mshale that a welfare check call from a concerned relative came in at 8:44am on Tuesday. Police then went to the property management office to get a key and that is when they found him. "There was nothing to suggest foul play," Franzen said. The Chief said the Hennepin County Medical Examiner will determine the cause of death.
Gichaba moved to Minnesota four years ago from North Carolina after separating from his wife whom they had a two children with. He was a psychologist at Metropolitan Health Services in St. Paul.
His body was taken to the Hennepin County Medical Examiner who told Mshale they were not ready to release any further information yet other than the date of death, November 3.
Family members, still in shock, through a spokesperson Geoffrey Gichana, a cousin to Gichaba, said he developed a blood clot that might have led to his death. Earlier in the year he had broken a leg while playing basketball at a community event. "We don't know if the two are related", said Gichana.
The normally social Gichaba was not in contact with anyone all of Monday, which was unusual for him according to Gichana and attempts to reach him were unsuccessful prompting the extended family to call the police on Tuesday.
The family has setup a GoFundMe fundraising page to assist with funeral expenses at https://www.gofundme.com/h98g8zpg. One can also deposit contributions at a WellsFargo account number 3444272334.
A memorial fundraiser for Gichaba is planned for November 15 at the Kenyan Community Church located at 6625 Humboldt Ave N, Brooklyn Center, MN 55430. It will start at 4pm.
This story will be updated as facts warrant.
Related:

Born and raised in Kenya's coastal city of Mombasa, Tom is the Founder, Editor-in-Chief and Publisher of Mshale which has been reporting on the news and culture of African immigrants in the United States since 1995. He has a BA in Business from Metro State University and a Public Leadership Credential from Harvard's Kennedy School of Government. He was the original host of Talking Drum, the signature current affairs show on the African Broadcasting Network (ABN-America), which was available nationwide in the United States via the Dish Network satellite service. On the show, he interviewed Nobel laureates such as 2004 Nobel Peace prize winner, Professor Wangari Maathai, the first woman from Africa to win the peace prize and heads of states. Tom has served and chaired various boards including Global Minnesota (formerly Minnesota International Center), the sixth largest World Affairs Council in the United States. He has previously served as the first Black President of the Board of Directors at Books for Africa. He also serves on the boards of New Vision Foundation and the Minnesota Multicultural Media Consortium. He has previously served two terms on the board of the United Nations Association. An avid runner, he retired from running full marathons after turning 50 and now only focuses on training for half marathons.





(No Ratings Yet)


Loading...