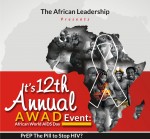 A coalition of African immigrants is holding its annual African World Aids Day (AWAD) on Saturday, December 5 at the  Sabathani Community Center in Minneapolis. The theme this year is "PrEP the Pill to Stop HIV?".
It runs 12pm to 4pm and is  free and open to the public.
The event, now its 12th year, comes amid a new report by the Minnesota Department of Health in April that the number of  cases in the state is not dropping. A reported 7,988 people are living with HIV/AIDS in Minnesota according to the  department.  The state has reported between 280 and 370 new HIV infections each year since 2000. It ranks 17rth nationally in new cases reported.
In the new cases that were reported in 2014, the latest year figures are available, 62% involved men who have had sex with other men. 31% of the men who contracted HIV last year were aged between 20 and 29.
African Immigrant Women
Of the 73 infections for females discovered in 2014, black women accounted for most of them and most of those black women were born in Africa. The 73 infections among women was an increase of 7% from 2013.
The annual Africa Worlds Day (AWAD) which brings together the African immigrant community to stress the importance of getting tested and prevention measures, is a collaboration between the African community organizations with the Minnesota Department of Health in a supporting role.
The theme "PrEP the Pill to Stop HIV?" is meant to highlight the daily prevention pill that is now available targeting those at a very high risk of getting HIV. The drug regiment is referred to as PrEP, or pre-exposure prophylaxis.
"Despite the tremendous progress made in responding to the epidemic over the past three decades, the annual number of new HIV cases has not declined and remains unacceptably high," said Dr. Ed Ehlinger, Minnesota's commissioner of health on World Aids Day which was this past Tuesday. "We still haven't found a reliable cure or vaccine against HIV infection and the data make it clear we need to do more."
At the AWAD event on Saturday, December 5, there will be confidential free HIV testing, free blood pressure checks and a free health screening. There will also be free food and a live band, organizers announced.
If you go:
What: 12th Annual African World AIDS Day (AWAD)
Admission: Free
When: Saturday, December 5, 2015 @ 12pm-4pm
Where: 2nd Floor Gym @ Sabathani Community Center, 310 East 38th Street, Minneapolis, MN 55409
More information: Shanasha @ 612-483-0199, Alvine Siaka @ 612-229-2679 or Henry Momanyi @ 763-439-0083





(1 votes, average: 5.00 out of 5)


Loading...