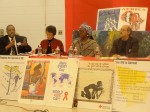 The annual African World AIDS Day (AWAD) Event will take place 2:00 p.m. to 7:00 p.m., Saturday, November 1st at Oromo Community Center in Saint Paul. The free event is sponsored by the AWAD Planning Committee – a coalition of local African residents and organizations united in the fight against HIV/AIDS.
"We want all Africans living in Minnesota to attend this important event," said Ephraim Olani, Spokesperson, AWAD Planning Committee. "It's all about saving lives and keeping us safe from HIV/AIDS for generations to come."
AWAD began in Minnesota in 2004 by a coalition of local African agencies that chose to have an annual World AIDS Day observance to focus on African culture and the devastating impact that HIV/AIDS has had on Africans worldwide and in Minnesota. To date, the AWAD event has served over 1,600 Africans.
"Our mission has always been to provide our African residents with vital information about the prevention, testing and treatment of HIV infection," said Olani. "Our theme and goal is 'getting to zero' that aims at reducing new HIV infections, discrimination and AIDS related deaths to zero among Africans."
According to the latest reports from the Minnesota Department of Health, Africans represented fourteen percent (14%) of all new cases reported in 2013 and thirteen percent (13%) of all persons living with HIV– yet, they represented only one percent (1%) of the state's total population. The HIV infection rates that year for Africans were 17 times greater than whites. There are 1,042 Africans that are estimated to be currently living with HIV in Minnesota.
"This year's event will feature expert speakers, African youth performance groups, testimonials, free HIV testing, agency resource exhibits, and African cuisine with refreshments," said Olani.
Julia Opoti, publisher, editor, writer and radio producer, will emcee the event. Inspirational African speakers will include Lucie Makena, Mesfin Feyisa Robi and Kiatamba. A panel of agency representatives will discuss their services and programs for Africans. The talented Oromo Cultural Youth Group will provide a unique performance dedicated to the event. Music will be provided by the renowned DJ, Shortlegg.
The AWAD event is free and open to the general public. For more information, contact any of the following AWAD Planning Committee members: Henry Momanyi, 763-439-0083, henmom505@yahoo.com; Tom Bichanga, 612-363-5219, tom@aliveness.org; or, Ephraim Olani, 763-228-2112, egobbu@yahoo.com.
African World AIDS Day
465 MacKubin Street, St. Paul, MN 55103
2:00pm-7:00pm





(No Ratings Yet)


Loading...