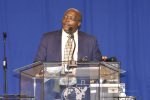 BROOKLYN PARK, Minn. – Kenyan-American Minnesota lawyer, Henry Ongeri, formally kicked off his campaign for governor of Nyamira County in the 2022 election Saturday afternoon at an event at Ebenezer Community Church.
Ongeri spoke to Mshale last week in advance of his formal launch and you can read that in depth story here.
Ongeri is hoping to succeed Gov. Amos Nyaribo, who was sworn into office in late December 2020 to finish the remainder of the late Gov. John Nyagarama's term. Nyagarama who was half way through his second term died of coronavirus complications. It is widely expected that Nyaribo will seek his own mandate from the electorate next year.
"I am not seeking to be governor so I can be called governor," Ongeri said.
Ongeri is joining what is expected to be a crowded field of contenders once campaigns begin. A handful of candidates have already set up social media pages for prospective campaigns.
At the launch attended by the who is who of the Kenyan civic leadership in Minnesota, Ongeri said he is is acutely aware of the angst the diaspora and those in Nyamira feel towards the underdevelopment of their county.
"The opportunities that are in Nyamira are undercut by two things, poor leadership and you wanna know the second one? poor leadership," Ongeri said. "How does a building in June 2021 fall on people in Nyamira county after we have sunk over 300 million into it, how do people not get angry? Our movement is a rejection of that and we are going to go to every length to say it, denounce it, condemn it and yes eradicate it, when I am Nyamira governor that is going to be history."
"My goal as governor is to fully integrate the diaspora into the development of Nyamira and that is nothing new just like how the Jews, the Filipinos treat their diaspora as one of their greatest assets," Ongeri said.
Nyamira, Ongeri said, must fully embrace its diaspora and the knowledge they bring because as matters stand, "we are dismissed, we are ignored and we are discriminated against except when we send money home."
Among actions he will take when governor is to establish an office for diaspora affairs in his county cabinet.
Ongeri dismissed critics who question the diaspora's understanding of issues in Kenya saying diaspora Kenyans address challenges in Kenya through digging deep into their pockets even when they don't have the money.
"I know the issues very well as every week I have to pay for the diabetes medicine my sister needs after they (authorities) have stolen the money that should be paying for it," said Ongeri.
Ongeri is a prominent figure in Minnesota's immigrant leadership circles and some of the initiatives he has been involved in were highlighted in this previous Mshale story where he discussed his candidacy.
"We are looking very deep into the future as we want people to imagine Nyamira 100 years from now," Ongeri said. "We want you to think beyond the election cycle I will be governor for 10 years but I w ant to be known for 100 years for the things that I did."
The crowd that showed up when it was 98 degrees Fahrenheit outside, included prominent figures in the African immigrant community that have run for office in Minnesota, including Janet Kitui, Boni Njenga, Henry Momanyi and Ben Muko. Geoffrey Gichana, the former president of Mwanyagetinge, in remarks to the audience said he will be running for Senator of neighboring Kisii county in the 2022 elections and looks forward to working with Ongeri "once they take office." The quintet offered words of encouragement to Ongeri as they urged the diaspora to increase their civic participation both locally and in Kenya.
Dr. Joash Omandhi, host of the Dr. Omandhi Show on KJTV, a former Kenyan parliamentary aspirant was also present as was the current president of Mwanyagetinge, Huldah Momanyi Hiltsley.
"As an immigrant this is a profound day not just for me but also for our community," Ian Oundo of Coon Rapids said. Oundo, a native of Uganda, is the former civic engagement director for Minnesota's Democratic Party before he left to found Makesi Creative Strategies, a political consulting firm.
Others were there to issue forceful words of support and solidarity to a longtime comrade in arms.
"I am here to support my brother Henry, and if a South Sudanese like me can support him then I am sure the people of Nyamira can also vote for him," Ladu Gubek said. Gubek has spent the last 20 years advocating for the African immigrant community alongside Ongeri.

Born and raised in Kenya's coastal city of Mombasa, Tom is the Founder, Editor-in-Chief and Publisher of Mshale which has been reporting on the news and culture of African immigrants in the United States since 1995. He has a BA in Business from Metro State University and a Public Leadership Credential from Harvard's Kennedy School of Government. He was the original host of Talking Drum, the signature current affairs show on the African Broadcasting Network (ABN-America), which was available nationwide in the United States via the Dish Network satellite service. On the show, he interviewed Nobel laureates such as 2004 Nobel Peace prize winner, Professor Wangari Maathai, the first woman from Africa to win the peace prize and heads of states. Tom has served and chaired various boards including Global Minnesota (formerly Minnesota International Center), the sixth largest World Affairs Council in the United States. He has previously served as the first Black President of the Board of Directors at Books for Africa. He also serves on the boards of New Vision Foundation and the Minnesota Multicultural Media Consortium. He has previously served two terms on the board of the United Nations Association. An avid runner, he retired from running full marathons after turning 50 and now only focuses on training for half marathons.





(1 votes, average: 5.00 out of 5)


Loading...