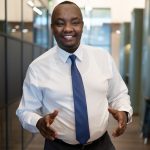 Boni Njenga, a Bloomington resident, has announced he is running for Hennepin County Commissioner in District 5 challenging first term incumbent Debbie Goettel. In a Zoom interview with Mshale as he observed Ramadan and the governor's shelter-in-place order, Njenga discussed his platform.
Njenga said he is running because it is time for fresh ideas and action, and wants to be involved at the policy level in making the county an even better place to live for all of its residents. He has lived and worked in the county for the last nine years.
Hennepin is Minnesota's largest county with an annual budget of $2.5 billion that is overseen by a seven-member board of commissioners that represent the county's seven districts. District 5 covers the cities of Bloomington, Eden Prairie and Richfield.
His main issues of focus include safe and affordable housing, closing the achievement gap, creating community wealth, improving the quality of life for all county residents, and child protective services, noting that the latter has been especially costly for the county which just settled a class-action lawsuit in December that had been filed against it in 2017.
"I want to bring a 21st century approach to policy making," Njenga said. "If you look at Debbie's voting record, she has not had any proposals and no new ideas other than just supporting other commissioners' proposals." He acknowledged that the incumbent is a formidable opponent but that he is up to the challenge.
Njenga who has a masters in public administration said if elected, he plans to introduce a new era of governance called "evidence – based policy making," adding that the approach has been used in counties around the country to guide decisions using the best available research and information.
He has championed access and opportunity for marginalized groups through his involvement in the faith-based coalition Isaiah, whether it is helping mosques in grant writing or pointing individuals to resources. His insight into the challenges the marginalized communities face is what has informed one of his platform issues – creating community wealth. He decried the county's dismal record when it comes to contracting with minority entrepreneurs. "Hennepin County with its millions of dollars spends less than 1% in contracting with people of color," Njenga said.
He has held supervisory and project management roles with the state where he worked before joining the private sector as a business owner. He says that background will enable him to offer ideas and innovative approaches that will enable money to go to local businesses to create sustainable jobs and economic security "instead of workforce programs and welfare."
He was the first in his family to finish high school in his native Kenya before proceeding to Minnesota State University-Mankato where he obtained a bachelors in political science and a masters in public administration.
"It will be quite an honor if residents of District 5 give me a chance to serve them and give back to the community that gave me a home and accepted me years ago," an animated Njenga said.
He is seeking the Democratic party's endorsement.

Born and raised in Kenya's coastal city of Mombasa, Tom is the Founder, Editor-in-Chief and Publisher of Mshale which has been reporting on the news and culture of African immigrants in the United States since 1995. He has a BA in Business from Metro State University and a Public Leadership Credential from Harvard's Kennedy School of Government. He was the original host of Talking Drum, the signature current affairs show on the African Broadcasting Network (ABN-America), which was available nationwide in the United States via the Dish Network satellite service. On the show, he interviewed Nobel laureates such as 2004 Nobel Peace prize winner, Professor Wangari Maathai, the first woman from Africa to win the peace prize and heads of states. Tom has served and chaired various boards including Global Minnesota (formerly Minnesota International Center), the sixth largest World Affairs Council in the United States. He has previously served as the first Black President of the Board of Directors at Books for Africa. He also serves on the boards of New Vision Foundation and the Minnesota Multicultural Media Consortium. He has previously served two terms on the board of the United Nations Association. An avid runner, he retired from running full marathons after turning 50 and now only focuses on training for half marathons.





(2 votes, average: 5.00 out of 5)


Loading...