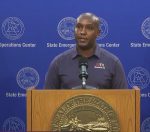 Governor Walz at Monday's daily COVID-19 briefing invited Abdirahman Kahin, owner of Afro Deli and the 2018 African Awards Business of the Year, to share the challenges restaurants have been facing following the governor's order in March to close all restaurants except for takeout and delivery due to the COVID-19 pandemic.
Governor Walz has been under mounting pressure to end the stay-at-home order that he extended last week through May 18. At Monday's press briefing however, Kahin praised the governor for working with the hospitality industry to work on plans on how to reopen safely. Joining Kahin to express similar gratitude was Liz Rammer, the president and CEO of Hospitality Minnesota an industry trade group that represents restaurants, lodging and campgrounds.
Kahin shared that three of his five restaurants in the Twin Cities are closed with the other two following the governor's directive of offering just takeout and delivery. Kahin said as a business and community leader he is used to challenges "but this epidemic has presented new challenges for my business, but through it all we continue to focus on the health of our employees and customers."
He said Governor Walz and DEED Commissioner Steve Grove have been receptive to suggestions he has offered on how restaurants can reopen safely, and that his business is ready to get back to business by following the safety guidelines that the state has developed.
Kahin's sentiments were shared by Rammer who said the industry employees upwards of 300,000 Minnesotans and has taken what she called a monumental hit and gave an ominous warning that "more than half of these businesses face certain, permanent closure in the next two months."
"This is a tough time but if we go through 2020 safe and healthy, we will be ready for the profits that follow afterwards and as Minnesotans we are in this together," said Kahin.
On his part, Governor Walz promised the state that he is working hard to get businesses reopened, "I get it, this sense of urgency," he said.

Born and raised in Kenya's coastal city of Mombasa, Tom is the Founder, Editor-in-Chief and Publisher of Mshale which has been reporting on the news and culture of African immigrants in the United States since 1995. He has a BA in Business from Metro State University and a Public Leadership Credential from Harvard's Kennedy School of Government. He was the original host of Talking Drum, the signature current affairs show on the African Broadcasting Network (ABN-America), which was available nationwide in the United States via the Dish Network satellite service. On the show, he interviewed Nobel laureates such as 2004 Nobel Peace prize winner, Professor Wangari Maathai, the first woman from Africa to win the peace prize and heads of states. Tom has served and chaired various boards including Global Minnesota (formerly Minnesota International Center), the sixth largest World Affairs Council in the United States. He has previously served as the first Black President of the Board of Directors at Books for Africa. He also serves on the boards of New Vision Foundation and the Minnesota Multicultural Media Consortium. He has previously served two terms on the board of the United Nations Association. An avid runner, he retired from running full marathons after turning 50 and now only focuses on training for half marathons.





(1 votes, average: 5.00 out of 5)


Loading...