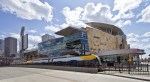 The Brooklyn Park City Council voted 5-2 on Monday evening (Feb. 22) to give municipal consent to the Blue Line Extension, a 13-mile light rail that will link downtown Minneapolis from Target Field to Brooklyn Park. Currently, the Blue Line which originates at the Mall of America terminates at Target Field as does the Green Line which originates in downtown Saint Paul. In Brooklyn Park, when the extension is complete, it will end at where the Target Brooklyn Park campus is near highway 610.
The total line extension cost is projected to be $1.496 billion.
Brooklyn Park is home to many African immigrants, many of them homeowners and is often referred to as the African suburb.
Municipal Consent is required by Minnesota state law for projects like the light rail. Mshale reporter Kari Mugo reported last month on a separate meeting for the public to give comment preceding last night's Council vote.
Council Members John Jordan and Bob Mata who both represent Brooklyn Park West area were the two voting against. Some of the reasons they cited included safety issues, with Jordan repeatedly pressing Project Director, Dan Soler for assurances that "robust" fencing will be erected in areas where the trains will pass too close to homes. Bob Mata said sound barriers were also needed. Soler told them on both accounts the type of fencing and sound barriers will for the most part depend on the outcome of future discussions with affected homeowners.
That however did not stop Councilman Jordan from giving an Antonin Scalia type lengthy dissent on the expected passing of the consent.
Dripping with sarcasm, he equated the line to a "Blair Walsh type field goal" due to the closeness to homes. He also expressed skepticism that the promised jobs the line is supposed to bring will materialize. He said the calls he has received concerning the line have been overwhelmingly negative. Councilman Peter Crema (East) however said most of his constituents have been in favor.
Bob Mata also expressed frustration that there will be no right turn lanes on West Broadway onto 85th, a busy intersection.
Councilman Terry Parks (East) voted in favor but said he will keep pushing for a pedestrian bridge on 63rd Avenue and Bottineau to prevent what happened years ago on Highway 252 when a student days from graduation died trying to cross the busy highway. Parks wore a purple tie in honor of that student to last night's Council meeting. The student's death eventually galvanized the community into pushing for a pedestrian bridge over highway 252.
"I want us to build a bridge on 63rd before someone dies," Parks said.
Councilman Rich Gates wondered if the Council should tie its consent to having the bridge built, like the City of Crystal did. Crystal, Golden Valley and Robbinsdale are the other cities that the Blue Line extension will pass through.
Mayor Jeffrey Lunde who joined the majority in giving municipal consent, a rarity for a Republican as far as mass transit projects are concerned, said the light rail extension "is good for the future of Brooklyn Park." A well traveled global businessman, Lunde said successful cities have good mass transit systems and testified having used them in his overseas business travels as they are much more convenient.
Lunde announced last October that he plans to run for the Minnesota Senate (District 36) this fall and his support for light rail has not endeared him to state Republican Party stalwarts. District 36 includes parts of Brooklyn Park, Champlin and Coon Rapids.
"I told my wife that today's vote is the most important in my career," Lunde told the council in summing up his support for municipal consent.
He said Takeda Pharmaceutical's decision to set up a manufacturing plant in Brooklyn Park, its first in the United States, was based in part with the Blue Line extension. Japan's Takeda with sales of $20 billion is one of the ten largest pharmaceutical manufacturers in the world. It announced in January that it will be setting up a plant in Brooklyn Park.
The Metropolitan Council has said that the Blue Line extension is expected to start service in 2021 and 27,000 weekday boardings are expected by 2030.
Related: Brooklyn Park residents have their say on the Bottineau LRT

Born and raised in Kenya's coastal city of Mombasa, Tom is the Founder, Editor-in-Chief and Publisher of Mshale which has been reporting on the news and culture of African immigrants in the United States since 1995. He has a BA in Business from Metro State University and a Public Leadership Credential from Harvard's Kennedy School of Government. He was the original host of Talking Drum, the signature current affairs show on the African Broadcasting Network (ABN-America), which was available nationwide in the United States via the Dish Network satellite service. On the show, he interviewed Nobel laureates such as 2004 Nobel Peace prize winner, Professor Wangari Maathai, the first woman from Africa to win the peace prize and heads of states. Tom has served and chaired various boards including Global Minnesota (formerly Minnesota International Center), the sixth largest World Affairs Council in the United States. He has previously served as the first Black President of the Board of Directors at Books for Africa. He also serves on the boards of New Vision Foundation and the Minnesota Multicultural Media Consortium. He has previously served two terms on the board of the United Nations Association. An avid runner, he retired from running full marathons after turning 50 and now only focuses on training for half marathons.





(2 votes, average: 3.00 out of 5)


Loading...