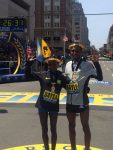 Ethiopians swept the Boston Marathon today for the first time in the race's history, toppling the Kenyans who have dominated the race for decades.
It was a 1-2-3 sweep in the men's race with Lemi Berhanu Hayle leading fellow countrymen Lelisa Desisa and Yemane Adhane Tsegay to the finish line. Hayle crossed the finish line with a time of 2:12:45.
In the women's race, the Ethiopians almost shut out the Kenyans as well, as they won in that race as well and also clinched the second position.
Atsede Baysa won the women's race with a time of 2:29:19 hours, 44 seconds ahead of Tirfi Tsegaye, also of Ethiopia. Baysa is also a two-time Chicago Marathon winner.
Joyce Chepkirui came in third to avoid a shut out of the Kenyans. The Kenyan athletes are under intense scrutiny following action by the World Anti-Doping Agency to put Kenya under probation after 40 athletes tested positive for performance enhancing drugs.
During a visit to Minneapolis last November to host running clinics for Minnesotans, the 2014 New York Marathon winner Wilson Kipsang, in informal conversations with this reporter who was a participant in the running clinic, said the performance enhancing scandal in his country is partly due to foreign managers misleading young athletes.

Born and raised in Kenya's coastal city of Mombasa, Tom is the Founder, President and Publisher of Mshale. As the founder, he did a lot of the reporting during the humble beginnings of the newspaper. While he still does the occasional reporting, he now concentrates on the publishing side of the news operation. Tom was also the original host of Talking Drum, the signature current affairs show on the African Broadcasting Network (ABN-America), which was available nationwide in the United States via the Dishnetwork satellite service. On the show, he interviewed Nobel laureates such as 2004 Nobel Peace prize winner, Professor Wangari Maathai, the first woman from Africa to win the peace prize and heads of states such as the president of The Gambia, Yahya Jammeh at State House, Banjul. Tom has served and chaired various boards including Global Minnesota (formerly Minnesota International Center), the sixth largest World Affairs Council in the United States. He has previously served as President of the Board of Directors of Books for Africa, the largest shipper of donated books to Africa. He also serves on the boards of New Vision Foundation and the Minnesota Multicultural Media Consortium. Tom also served two terms on the board of the United Nations Association. He retired from running full marathons after turning 50 and now only focuses on half marathons.





(No Ratings Yet)


Loading...