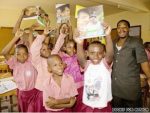 As the Finance Minister for Kenya and as a proud Minnesotan who is a member of the Kenyan diaspora, we have always been aware of the importance of education and the role it plays in Kenya's national development and future.
Kenya has always been aware that the needs of the education sector are immense, both structurally and materially. Unsurprisingly, the education sector was the top recipient of the national budget, receiving close to 30 percent of the total.
Even though Kenya recently attained middle income status, it still faces some challenges that are common to most African countries:  namely lack of enough teachers, inadequate supply of teaching materials and, most importantly, an acute lack of text books whether for the official curriculum or leisure reading.
Last year the United Nations adopted 17 Sustainable Development Goals or as the UN put it, "17 goals to transform our world."
One of the 17 goals is "Quality Education." The 2030 Agenda for Sustainable Development calls on countries to begin efforts to achieve the 17 SDGs over the next 15 years. Kenya as a country is committed to the Sustainable Development Goals.
The many challenges that Kenya, and indeed other African countries, face can be tackled through education just as the United Nations has visualized.
Education is particularly important for our young people who will be tomorrow's leaders. Kenya, like many countries across the world, has experienced the atrocious consequences of increasing radicalization and the scourge of violence from extremist groups. As the world looks for strategies to counter the radicalization trend and protect its citizens, we remain fully cognizant that military force is only but one tool. In the long-term, access to quality education is the bulwark against young people turning to radicalization and violence. When a population is more educated, people have more opportunities for economic and social advancement. A better educated population leads to better governance and the development of the rule of law.
That is why Kenya is proud to collaborate with Non-Governmental Organizations (NGOs) like St Paul-based Books for Africa (BFA). We are proud to note that Kenya has consistently been one of the top recipients of educational books from BFA. Since 1988, more than 34 million books have been sent by BFA to various countries in Africa and more than 1.8 million of these books have been sent to our young students in Kenya. The books have been extremely useful and helpful to our students.
Equally, we also greatly appreciate the good work that our Diaspora communities here in Minnesota and in the U.S. are doing to work with the youth to point out the importance of education.
Last year, Kenya was proud to host President Barack Obama who paid us a visit for the first time since he became President. President Obama recognized the value of education in his talk with the youth:
"And when it comes to the people of Kenya—particularly the youth—I believe there is no limit to what you can achieve.  A young, ambitious Kenyan today should not have to do what my grandfather did, and serve a foreign master.  You don't need to do what my father did, and leave your home in order to get a good education and access to opportunity.  Because of Kenya's progress, because of your potential, you can build your future right here, right now."
This inspiring message is premised on the achievements made by Kenya in the education sector and which would not have been attained without the generous and consistent support of international partners such as BFA.
Kenya will continue to work collaboratively with like-minded partners in achieving these goals and we expect that other African countries will do the same. The work of BFA, like that of other American NGOs that work in education, health care and economic development, is a clear reminder of the friendship, partnership and goodwill that Americans have for Africa. We greatly appreciate the sacrifice and endeavor that enables our students to help themselves achieve a better life.
His Excellency Robinson Njeru Githae is Kenyan ambassador to the United States and was the keynote speaker at the annual Books For Africa luncheon in St. paul, Minnesota on May 19, 2016. Tom Gitaa, a native of Kenya, is founder and publisher of Mshale, the newspaper that serves the African community in the Twin Cities and a past board president of Books For Africa.





(No Ratings Yet)


Loading...