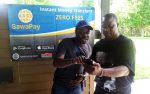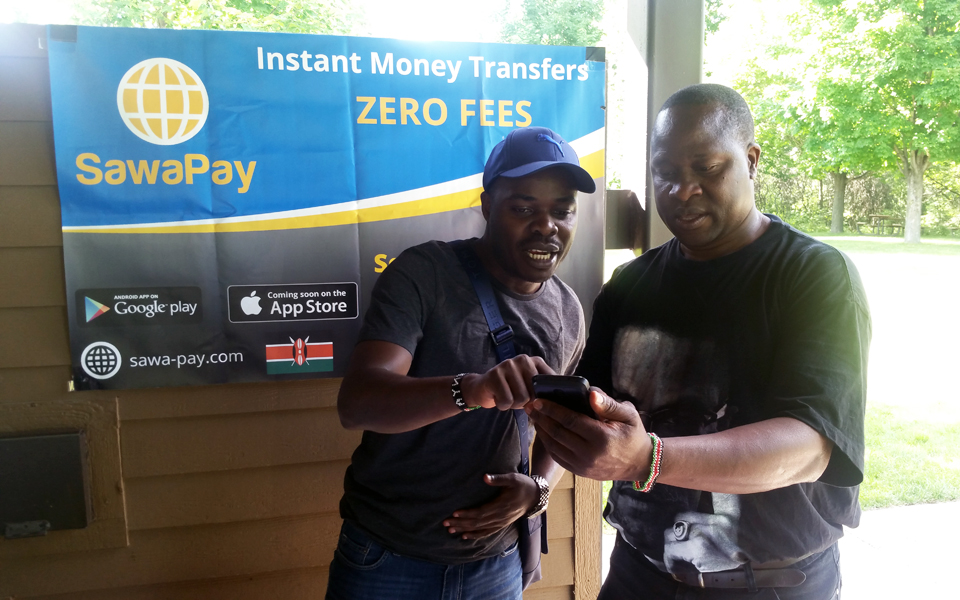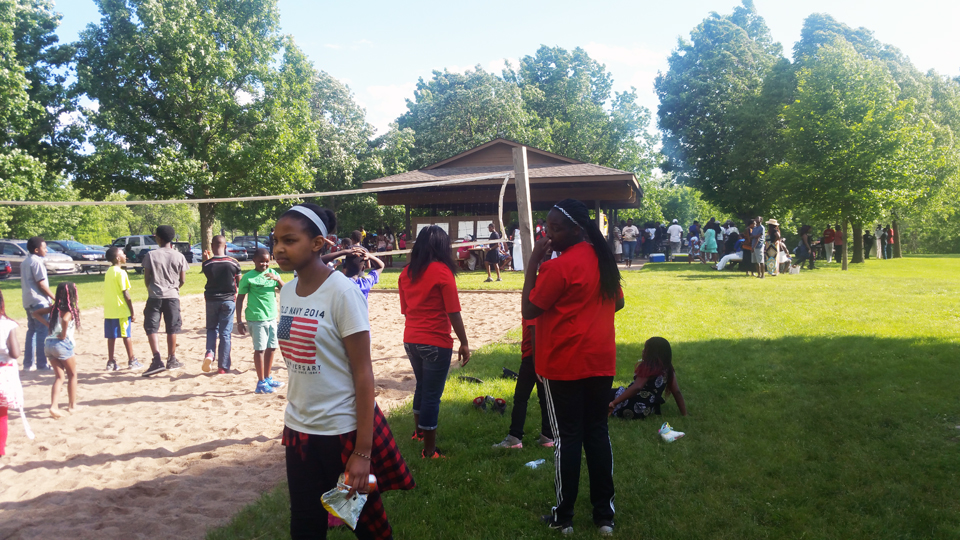 MINNEAPOLIS – The money transfer landscape in the North America to Kenya corridor is about to undergo a major shakeup with the entry of SawaPay into the market. SawaPay is an app-based service owned by Kenya-based First Choice Global Ltd. It provides 'free' and instant money transfer to receivers' mobile wallets in Kenya, popularly known as M-Pesa.
Kenyans in North America send an average of US$140 million each month through official channels, according to data from the Central Bank of Kenya. The bulk of the US$140 million originates in the United States.
The free app based service in the US-Kenya corridor is currently dominated by SendWave which debuted two years and dislodged behemoths Western Union and MoneyGram as the sender of choice among Kenyan-Americans in sending money to Kenya. Some estimates put SendWave's market share of the Kenya-US corridor at 60%.
SawaPay started service in February and launched in the United States in March during the USA Sevens Rugby in Las Vegas, a popular destination event with Kenyan-Americans.
Unlike Western Union and MoneyGram, services such as SendWave and now SawaPay, do not charge fees to send money to recipients but instead make their money in the exchange rate, a model which Kenyans in North America have embraced as a better alternative. Funds have to come from the sender's US debit card.
Even with the business model hinging on the exchange rate with no send fees charged, these new entrants still offer a favorable exchange rate in comparison to Western Union and MoneyGram. While one can also send money to M-Pesa with the traditional services like Western Union and MoneyGram, just like is the case at their agent locations, customers have to pay a fee to do so.
At the time of posting this story for example, a Kenyan-American sending $100 to their recipient in Kenya would have had that recipient receiving Ksh. 8,926 or Ksh. 9,183 respectively from Western Union and MoneyGram. A test of a similar SawaPay send by yielded Ksh. 9,806 for that recipient, an almost 10% more money in the pocket for the recipient not including the $2.99 (Western Union) or $4.99 (MoneyGram) the Kenyan-American sender would incur to send from zip code 55403 (Mshale office) according to those company's websites.
"We are a fully Kenyan owned company," Alan Osoro, the First Choice Global CEO and Managing Director told Mshale during an interview.
Five of the seven directors are based in Kenya and the other two are in Atlanta and Minneapolis, he said. The two US based directors are Kenyan-Americans.
CoinX which is licensed in 42 states in the United States as an MTO (Money Transfer Operator), has struck an agreement with SawaPay which makes the latter their exclusive correspondent agent into SubSaharan Africa, Osoro told Mshale.
The emergence of SawaPay is not an answer to SendWave, Osoro told Mshale. "We only found out about them (SendWave) when we were in the development phase two years ago."
"One of the advantages we offer the diaspora here in the US is the ability to pay other bills directly to commercial entities in Kenya that others do not offer," Osoro said. Instead of sending money directly to their relatives for projects they are undertaking, the diaspora can now send those payments directly to the businesses in Kenya, known as PaybIlls. "They can also pay school fees to the school directly."
"Senders can also send money from their US bank accounts to M-Pesa in Kenya although that will not be available instantly in the recipient's M-Pesa as is the case when the source of funds is the debit card as the funds have to clear first, but is an option for those who might prefer that," added Mr. Osoro.
Mr. Osoro, along with his co-founder Samuel Njehu, is currently in the United States on an ambitious SawaPay Road show to promote the company's service. Osoro and Njehu are the co-founders along with Erastus Kamau, with Osoro being the originator of the concept before bringing the other two onboard.
At the official Minnesota Madaraka Day family day celebration at a local park over the weekend, Osoro and the Atlanta-based Peter Okwera, the company's VP of Operations, formally introduced the service to Kenyans in the state which ranks among the top five contributors of the $140 million monthly that is sent to Kenya from North America.
"Reception has been warm from the diaspora," Osoro said.
Murugi Mutiga was evidence of that warm reception, a new customer SawaPay gained during its Minnesota leg of the road show. Mutiga, a Kenyan-American lecturer at a local community college, said she tried the service during the Madaraka Day Dinner at a local hotel where Osoro presented and liked it.
"I was able to send M-Pesa just fine to my sister and she got it instantly. I also sent a small amount to my bank account in Kenya and it worked," an excited Mutiga told Mshale. "I love it so now I do not have to pay to wire money to my account."
"I have been using SendWave but I will stop using it and switch to SawaPay now that i know it is run by Kenyans and we have to support our own businesses." Her only gripe with SawaPay is that the app does not show western Union and MoneyGram's exchange rates the way its competitor SendWave does.
Sponsorships
Responding to a question on whether SawaPay, unlike its similar competitor SendWave, plans to sponsor Kenyan events in the United States, Osoro said "we have been supporting a lot of diaspora events since our launch in February and we plan to continue doing that but (it) is a two-way street, we support you (the diaspora) and you support us."
The chairman of the Minnesota Madaraka Day Committee, Geoffrey Gichana, confirmed to Mshale that SawaPay joined its competitors Western Union and MoneyGram as key sponsors of this year's celebration that drew a turnout of over 500 during the family day portion of the festivities.
"I am also pleased by what they have indicated their intentions are going forward in terms of sponsorships," Gichana said.
Market Share
In a wide ranging interview with Mshale on his company's entry into the United States, the First Choice Global CEO said the company's goal is to grab upwards of 30% of market share in the Us-Kenya corridor of the money transferred within the next twelve months.
"We are also in discussion on how we can extend ownership by expanding the shareholding to Kenyans in the Diaspora, but more to come on that," Osoro said.
The SawaPay app can be downloaded at the Google PlayStore and will be available soon on the Apple iTunes store. Its website is here.

Born and raised in Kenya's coastal city of Mombasa, Tom is the Founder, Editor-in-Chief and Publisher of Mshale which has been reporting on the news and culture of African immigrants in the United States since 1995. He has a BA in Business from Metro State University and a Public Leadership Credential from Harvard's Kennedy School of Government. He was the original host of Talking Drum, the signature current affairs show on the African Broadcasting Network (ABN-America), which was available nationwide in the United States via the Dish Network satellite service. On the show, he interviewed Nobel laureates such as 2004 Nobel Peace prize winner, Professor Wangari Maathai, the first woman from Africa to win the peace prize and heads of states. Tom has served and chaired various boards including Global Minnesota (formerly Minnesota International Center), the sixth largest World Affairs Council in the United States. He has previously served as the first Black President of the Board of Directors at Books for Africa. He also serves on the boards of New Vision Foundation and the Minnesota Multicultural Media Consortium. He has previously served two terms on the board of the United Nations Association. An avid runner, he retired from running full marathons after turning 50 and now only focuses on training for half marathons.





(4 votes, average: 5.00 out of 5)


Loading...