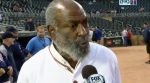 David Robinson, son of baseball legend Jackie Robinson will be the grand marshall at Books for Africa's Children's Book March taking place tomorrow (Saturday, September 24) starting at 10:30am.
Robinson, who moved to Tanzania 33 years ago and continues to live there, is in the Twin Cities to raise awareness and funds for Books for Africa. He threw the first pitch at yesterday's Twins vs. Detroit game at Target Field.
The 3-mile walk starts at Matthews Park in Minneapolis (2318 29th Avenue South, Minneapolis, MN 55406) and ends at the Books for Africa warehouse in St. Paul (635 Prior Avenue North, Saint Paul, MN 55104).
A warehouse party will follow the conclusion of the walk featuring the band Ipso Facto and free food provided by Afro Deli and Kalahari Foods.
Rain Plan: The walk will be rescheduled if it is is raining at 10:15am.
Your cars: Books for Africa will provide free transfer service from the warehouse to Matthews Park between 12:30 and 2:00 pm.
Here is the schedule for the walk and warehouse party:
10:00-10:25 am: Gather for the March in front of the Matthews Park building. Each child will be able to choose a book and inscribe a message to an African child
10:30 am: Book March leaves Matthews Park
12 pm-2pm: Lunch at the BFA St. Paul Warehouse
2pm-4pm: Live Music by Ipso Facto and the Books For Africa Warehouse Band
Warehouse address:
635 Prior Ave N
Saint Paul, MN 55104

Born and raised in Kenya's coastal city of Mombasa, Tom is the Founder, President and Publisher of Mshale. As the founder, he did a lot of the reporting during the humble beginnings of the newspaper. While he still does the occasional reporting, he now concentrates on the publishing side of the news operation. Tom was also the original host of Talking Drum, the signature current affairs show on the African Broadcasting Network (ABN-America), which was available nationwide in the United States via the Dishnetwork satellite service. On the show, he interviewed Nobel laureates such as 2004 Nobel Peace prize winner, Professor Wangari Maathai, the first woman from Africa to win the peace prize and heads of states such as the president of The Gambia, Yahya Jammeh at State House, Banjul. Tom has served and chaired various boards including Global Minnesota (formerly Minnesota International Center), the sixth largest World Affairs Council in the United States. He has previously served as President of the Board of Directors of Books for Africa, the largest shipper of donated books to Africa. He also serves on the boards of New Vision Foundation and the Minnesota Multicultural Media Consortium. Tom also served two terms on the board of the United Nations Association. He retired from running full marathons after turning 50 and now only focuses on half marathons.





(No Ratings Yet)


Loading...