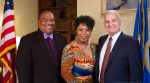 The Twin Cities, home to the largest per capita number of Fortune 500 companies in the  nation, is gearing up to host one of the largest  state sponsored career fairs targeting people of color on Tuesday, October 18.
The event, planned from 9 a.m. to 5 p.m. at the Minneapolis Convention Center has the backing of none other than the state's governor, Mark Dayton. The fair is partly a response to his agenda to address the racial disparities that the state is facing that pose a threat to its future workforce needs.
The people of Color career fair will provide an opportunity for the region's employers to connect with professionals of color, according to its founder Sharon Smith-Akinsanya.
The high performing state is facing a number of challenges to its future prosperity. According to data published by the Minnesota Department of Employment and Economic Development (DEED), in June 2016 African American and Hispanic communities had a 14.4 percent unemployment rate compared to 2.9 percent among whites. To add urgency to the conundrum the state finds itself in, data from a recent Wilder Research study found that a higher education does not equate to a better job for minority employees: college educated blacks in Minnesota currently have a 9 percent unemployment rate as opposed to a 3 percent unemployment rate among their white counterparts.
From 2010 to 2014, US census data shows that Minnesota lost 35,000 white residents of working age. During that same time, the number of working-age people of color increased by 72,000. There is therefore an urgency the state is facing to address its future workforce needs.
"This event empowers companies to proactively create the change that closes the economic gap and ends the structural racism that can ultimately harm the economic stability of our state. The People of Color Career Fair provides the space and opportunity for those companies ready and wanting to solve the problem to meet with and talk to qualified candidates of color who are looking for an amazing company to work for. It's bold. It's radical. It's necessary," Smith-Akinsanya told Mshale.
The People of Color Career Fair website lists among the companies participating include U.S. Bank, Midco, State of Minnesota, The Patterson Companies, Allianz Life Insurance of North America, University of Minnesota, Medtronic, Metro Transit, Mortenson Construction and more. You can find the full list here.
According to Smith-Akinsanya, candidates that will benefit range from college interns and recent college graduates to experienced professionals with advanced degrees.
"Attendees can expect to meet and speak directly with hiring managers and decision makers representing Minnesota's top employers," said Smith-Akinsanya.
She encourages those planning to attend to register in advance at www.peopleofcolorcareerfair.com to upload their resume and receive some benefits that those who just show up won't – a free professional headshot and a free bus or train pass.
"State government is among Minnesota's largest employers," said Gov. Mark Dayton in a release supporting the Fair. "As our state becomes increasingly diverse, we are committed to building a talented workforce that is representative of Minnesota. I encourage all interested people of color to consider state employment and attending this job fair."
In a wide ranging Mshale interview, Smith-Akinsanya said there is still room for employers that want to participate as the governor has urged. Details for employers are also on the same website.
Besides the career opportunities the fair will provide, there will be four breakout sessions dubbed 30 Minutes of Power:
LinkedIn Simplified—Grow your Visibility, Credibility and Hire-ability! – Sponsored by Midco
Find Success by Bringing Your Authentic Self to Work! – Sponsored by U.S. Bank
Stand Out From the Crowd and Land a Meaningful Internship! – Sponsored by U.S. Bank
7 Ways to Makeover Your Career! How to Rekindle Your Passion at Work – Sponsored by State of Minnesota
"Come dressed and ready to interview with 10-15 resumes in hand, hiring managers will be there" Smith-Akinsanya said.
People of Color Career Fair
Date: Tuesday, October 18, 2016 9:00am – 5:00pm
Venue: Minneapolis Convention Center, 1301 2nd Ave S, Minneapolis, MN 55403
Registration: http://www.peopleofcolorcareerfair.com

Born and raised in Kenya's coastal city of Mombasa, Tom is the Founder, Editor-in-Chief and Publisher of Mshale which has been reporting on the news and culture of African immigrants in the United States since 1995. He has a BA in Business from Metro State University and a Public Leadership Credential from Harvard's Kennedy School of Government. He was the original host of Talking Drum, the signature current affairs show on the African Broadcasting Network (ABN-America), which was available nationwide in the United States via the Dish Network satellite service. On the show, he interviewed Nobel laureates such as 2004 Nobel Peace prize winner, Professor Wangari Maathai, the first woman from Africa to win the peace prize and heads of states. Tom has served and chaired various boards including Global Minnesota (formerly Minnesota International Center), the sixth largest World Affairs Council in the United States. He has previously served as the first Black President of the Board of Directors at Books for Africa. He also serves on the boards of New Vision Foundation and the Minnesota Multicultural Media Consortium. He has previously served two terms on the board of the United Nations Association. An avid runner, he retired from running full marathons after turning 50 and now only focuses on training for half marathons.





(No Ratings Yet)


Loading...