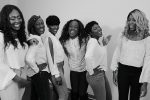 The 2016 Miss Liberia Minnesota Scholarship Pageant will begin at 6 p.m. on October 29 at the Hopkins Center for the Arts in Downtown Hopkins.
Seven Liberian women will compete to be crowned Miss Liberia Minnesota 2016 according to the Pageant's official website. Contestants are required to be between 18 and 26 with a minimum GPA of 2.5 if they are students. Contestants' academic achievements, leadership abilities, and volunteer service will be highlighted during the pageant. The traditional Swimwear segment will be replaced with an Active Gear segment.
The winner of Miss Liberia Minnesota will move on to compete in the 2017 Miss Liberia USA Pageant in Philadelphia.
The Kofa Foundation is hosting the pageant. The foundation is a nonprofit organization whose stated mission is to, "provide services to and advocate for survivors, surviving family members, and communities affected by an infectious disease". The Kofa Foundation provides scholarships, training, travel opportunities and more to their winners.
Pageant tickets are free for children age 7 or younger, $15 for those age 8-17, $35 if purchased in advance, $40 at the door and $50 for VIP tickets.
Tickets can be purchased here.
If you plan to go:
Miss Liberia Minnesota Pageant
Saturday, October 29 2016 @ 6PM
Hopkins Center for the Arts
1111 Mainstreet, Hopkins, MN 55343
Advance Tickets: $15, $35 or $40 at the door. VIP @ $50
Tickets: Go here.
Singer/songwriter Amie Dibba is a Mshale Contributing Writer. A former Miss Gambia USA, she is a versatile individual and has done everything from an audiobook narration to doing jingles for a telecom company. She is a graduate of Drexel University.





(No Ratings Yet)


Loading...