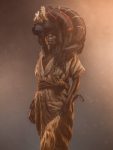 The Mau Mau Uprising was a revolt against British colonial rule in Kenya and lasted eight years(1952-1960). It accelerated Kenya's path to independence .
The impetus for the revolt revolved around Issues like the expulsion of Kikuyu tenants from settler farms, loss of land to white settlers, poverty, and lack of true political representation for Africans. The Kikuyu were the single largest ethnic community and occupied some of the prime agricultural lands.
Wives of the Mau Mau Generals is the latest project by photographer and digital artist, Osborne Macharia.
Macharia describes his latest project as the story of a special unit of 4 women in a small village within Kipipiri Forest in Central Kenya.
They were the wives to 4 of the Mau Mau generals and just like their men, they too had leadership roles. This women would be endowed in the most unique hair styles whenever a full moon was approaching. To the ordinary folk this was normal but to the villagers of Kipipiri their hair style was symbolic.

Born and raised in Kenya's coastal city of Mombasa, Tom is the Founder, President and Publisher of Mshale. As the founder, he did a lot of the reporting during the humble beginnings of the newspaper. While he still does the occasional reporting, he now concentrates on the publishing side of the news operation. Tom was also the original host of Talking Drum, the signature current affairs show on the African Broadcasting Network (ABN-America), which was available nationwide in the United States via the Dishnetwork satellite service. On the show, he interviewed Nobel laureates such as 2004 Nobel Peace prize winner, Professor Wangari Maathai, the first woman from Africa to win the peace prize and heads of states such as the president of The Gambia, Yahya Jammeh at State House, Banjul. Tom has served and chaired various boards including Global Minnesota (formerly Minnesota International Center), the sixth largest World Affairs Council in the United States. He has previously served as President of the Board of Directors of Books for Africa, the largest shipper of donated books to Africa. He also serves on the boards of New Vision Foundation and the Minnesota Multicultural Media Consortium. Tom also served two terms on the board of the United Nations Association. He retired from running full marathons after turning 50 and now only focuses on half marathons.





(No Ratings Yet)


Loading...