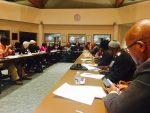 African Immigrant Services which has spearheaded a spirited effort in the Osseo School District that spans two years has come out in support of the district's educational equity policy that was approved 6-0 by the board on Thanksgiving week.
AIS, in a press release Friday morning that Mshale received, described the policy as "historic" and said the board's approval was "a major victory for AIS, the district leadership, and the community of parents and stakeholders."
The Osseo School District which spans the so-called African suburbs of Brooklyn Park, Brooklyn Center, Champlin as well as Maple Grove has a student body that is more than 50% students of color, many of them children of African immigrants.
It is the same district where "Go back to Africa" and "White America" graffiti greeted students at a Maple Grove high school after Donald Trump won the presidency last month.
The board's approval came after months of work and angst in the community. For years, students of color in the district have been reading and graduating at lower levels than their white counterparts. Minnesota Department of Education data shows 72 per cent of white students were proficient in reading compared to just 30% for black students.
The plan includes a commitment to increase diversity in the teaching staff which has just 5% teachers of color in line with what AIS had proposed back in 2014. That AIS proposal had called for a long-term institutionalized educational racial equity policy that would reinforce a "shared racial equity agenda."
A Minnesota Public Radio report by Emma Sapong quoted African parents critical of the new policy. One parent, Amril Okonkwo, told Sapong he was not aware that such a policy was in the works.
"You're creating a policy that will affect our African immigrant children and there's no input," Okonkwo said. "I truly believe that they need to change the way they do their outreach. They have to go ahead and actually seek our input from parents."
Okonkwo and others are concerned there is no way to hold the Osseo School Board accountable to ensure the new policy's goals are achieved. His concern might be partly due to what Superintendent Dr. Kate Maguire of the Osseo School District said after adoption of the policy. She admitted to mistakes during the first drafting process earlier in the fall when no feedback was sought from parents before being presented to the board in October.
"Once we drafted the policy and we had the first draft, we tripped up and we did not loop back and seek additional feedback," Dr. Maguire said in comments carried by KSTP TV.
"I think it caused a breakdown in trust."
AIS believes with the new policy that was finally presented for a vote to the school board on November 22 and passed, has new language, including the addition of culturally sensitive training for staff that is a win for parents and students of color.
"The passage of this policy marks a major victory for AIS, the district leadership, and the community of parents and stakeholders", said Fata Acquoi, AIS education organizer. "We must continue to work with our community to deepen and sustain the impact of this amazing work."
Abdullah Kiatamba,executive director of AIS, said what has stood in the way are "systemic racial and cultural barriers" that have impacted learning negatively in the Osseo School District.
Kiatamba went on to applaud the District's superintendent Maguire and the school board for their "courageous action". He said AIS looks forward to working with parents, the superintendent and the board to ensure "sustainable impact towards increased racial equity outcomes in the district."
AIS's strong statement, unusual in its depth and detail, should give the school district some breathing room to implement the policy after a false start in the fall. AIS, with its reputable street cred rarely issues written statements without wide consultation in the African immigrant community it serves.
The Osseo School District new policy called Racial Equity in Educational Achievement can be accessed here.

Born and raised in Kenya's coastal city of Mombasa, Tom is the Founder, Editor-in-Chief and Publisher of Mshale which has been reporting on the news and culture of African immigrants in the United States since 1995. He has a BA in Business from Metro State University and a Public Leadership Credential from Harvard's Kennedy School of Government. He was the original host of Talking Drum, the signature current affairs show on the African Broadcasting Network (ABN-America), which was available nationwide in the United States via the Dish Network satellite service. On the show, he interviewed Nobel laureates such as 2004 Nobel Peace prize winner, Professor Wangari Maathai, the first woman from Africa to win the peace prize and heads of states. Tom has served and chaired various boards including Global Minnesota (formerly Minnesota International Center), the sixth largest World Affairs Council in the United States. He has previously served as the first Black President of the Board of Directors at Books for Africa. He also serves on the boards of New Vision Foundation and the Minnesota Multicultural Media Consortium. He has previously served two terms on the board of the United Nations Association. An avid runner, he retired from running full marathons after turning 50 and now only focuses on training for half marathons.





(No Ratings Yet)


Loading...