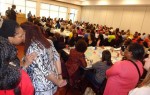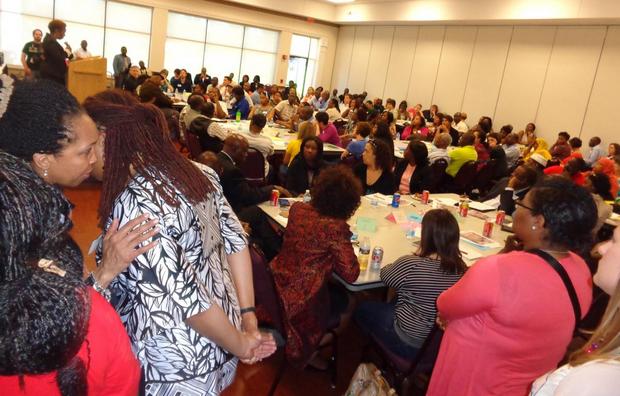 On May 22, More than 200 people crammed the main meeting room at the Brooklyn Park Community Activity Center to participate in the Community Town Hall for Parents of Color in the Osseo School District. Most of the participating parents were African immigrants and African Americans. The meeting was hosted  by African Immigrant Services and Legacy Family Center.
Teachers and staff of Northview Junior High participated in the planning and logistics of the meeting.
A top goal of the meeting was to give the parents an opportunity to talk about what they wanted changed in  their schools, identify solutions, then work together to get solutions implemented.
Small group brainstorming
People gathered around tables in groups of about ten.
They then in turn brainstormed these questions:
What do you like/dislike about your child's school?
What solutions would you propose?
What kind of follow-up would you like to see after tonight?
The answers to the like and dislike questions were then written on big easel sheets, and the sheets were taped up on the wall.
As the meeting ended, people were given five dots, and asked to vote for the five things they most liked and disliked about their school and the school system.
Voting Priorities
These dislikes got the most dot votes:
1.    Staff not racially similar to students (41 votes)
2.    Low expectations for black students (38 votes)
3.    Need better support for immigrant students (36 votes)
4.    Inconsistent communication from teachers to parents (35 votes)
5.    Not enough diversity (32 votes)
6.    Blowing black student school issues out of proportion (32 votes)
7.    Teachers lack cultural understanding of their students (31 votes)
8.    School board is not racially similar to community (30 votes)
These likes got the most dot votes:
1.    Hiring people of color (25 votes)
2.    Good at getting communications out to parents's homes (15 votes)
3.    There is good diversity (13 votes)
4.    Progress made regarding racial equity (11 votes)
5.    Cares about exceptional students (10 votes)
6.    Open communication (10 votes)
Over the next few weeks., parents and community members will be reaching out to more parents, researching possible solutions to the biggest problems, negotiating with the Osseo school district, and working together to get solutions implemented.
Even though  the room was packed and noisy, people came away energized and vowing  to work together to improve  their school system
Below are the easel sheets with dots and the vote count for each like and dislike.





(No Ratings Yet)


Loading...